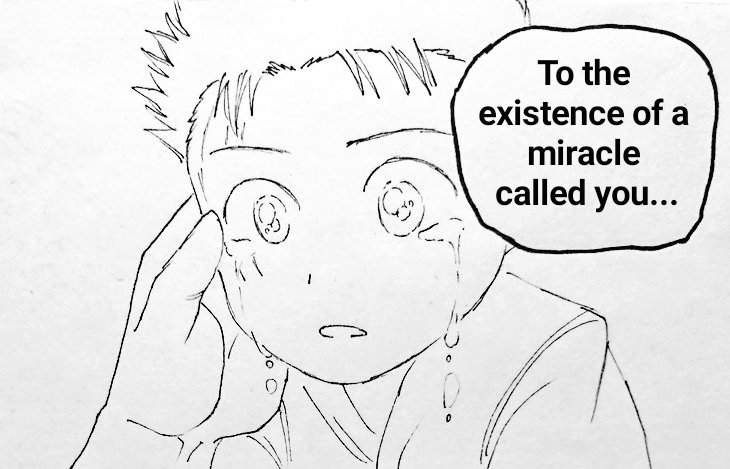 Hello steemians!
I am RYO!
This is a -Jingi- New Chapter post
-Jingi- is not my previous work, it's my original manga that I'm currently working on
About hints to read manga before
Read manga from the right
Red word are Japanese. The meaning is written in (※)
If you do not understand how to read manga please read the sentences under the picture. It's written in the order of manga
-Jingi- Chapter32↓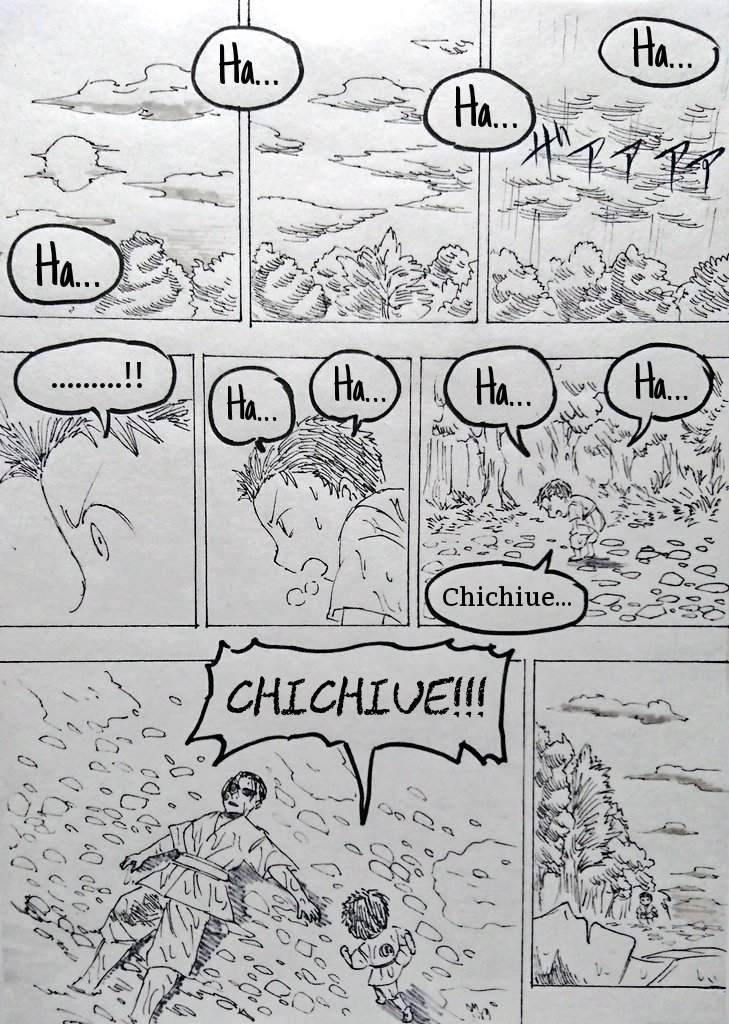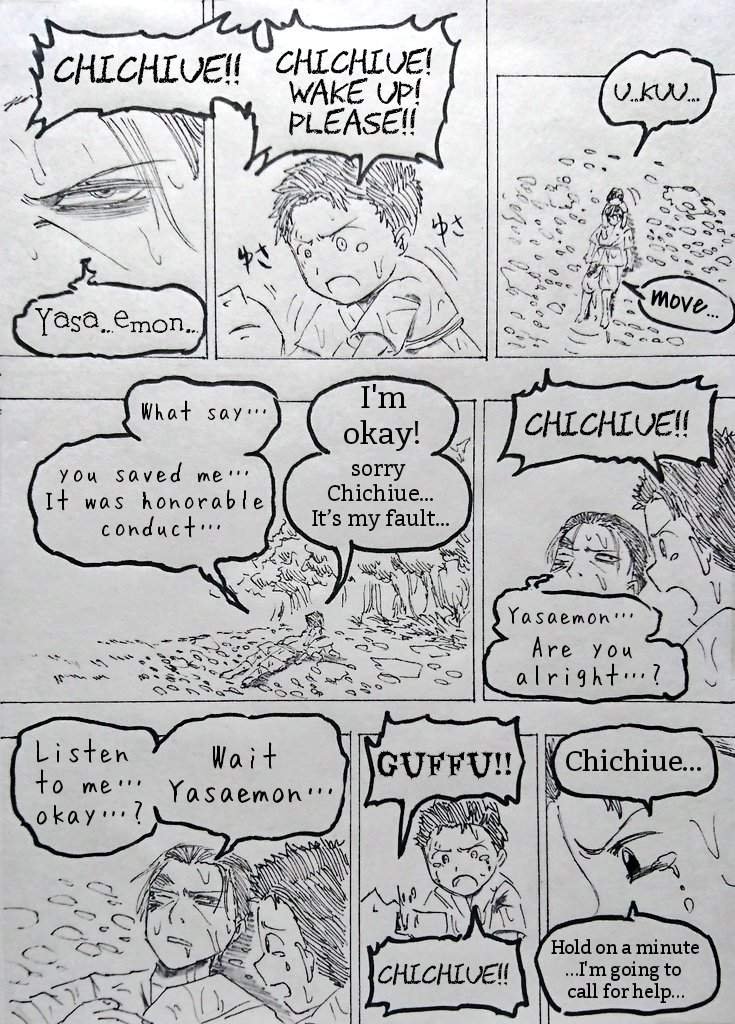 Chichiue! Wake up! please!!
Chichiue!!
Yasa…emon…
Chichiue!!
Yasaemon…Are you alright…?
I'm okay! sorry Chichiue…It's my fault…
What say…you saved me…It was honorable conduct…
Chichiue…
Hold on a minute…I'm going to call for help…
Chichiue!!
Wait Yasaemon…Listen to me…okay…?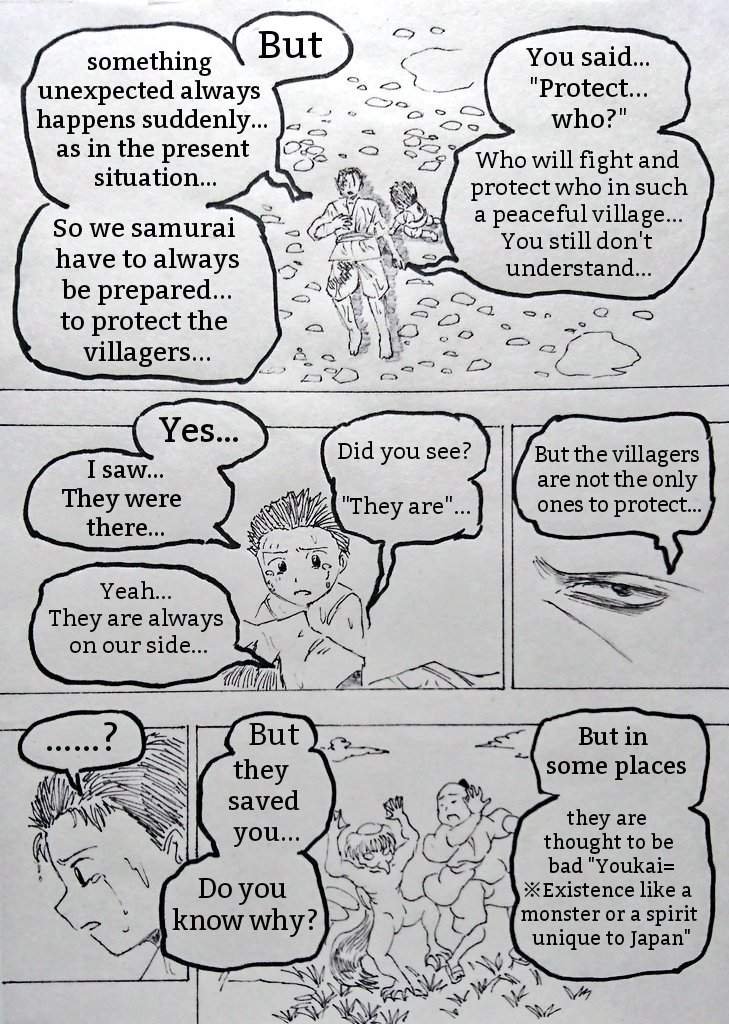 You said…"Protect...who?"
Who will fight and protect who in such a peaceful village...You still don't understand…
But something unexpected always happens suddenly...as in the present situation...
So we samurai have to always be prepared...to protect the villagers...
But the villagers are not the only ones to protect…
Did you see? "They are" ...
Yes…I saw…They were there…
Yeah…They are always on our side…
But in some places, they are thought to be bad "Youkai=※Existence like a monster or a spirit unique to Japan"
But they saved you...Do you know why?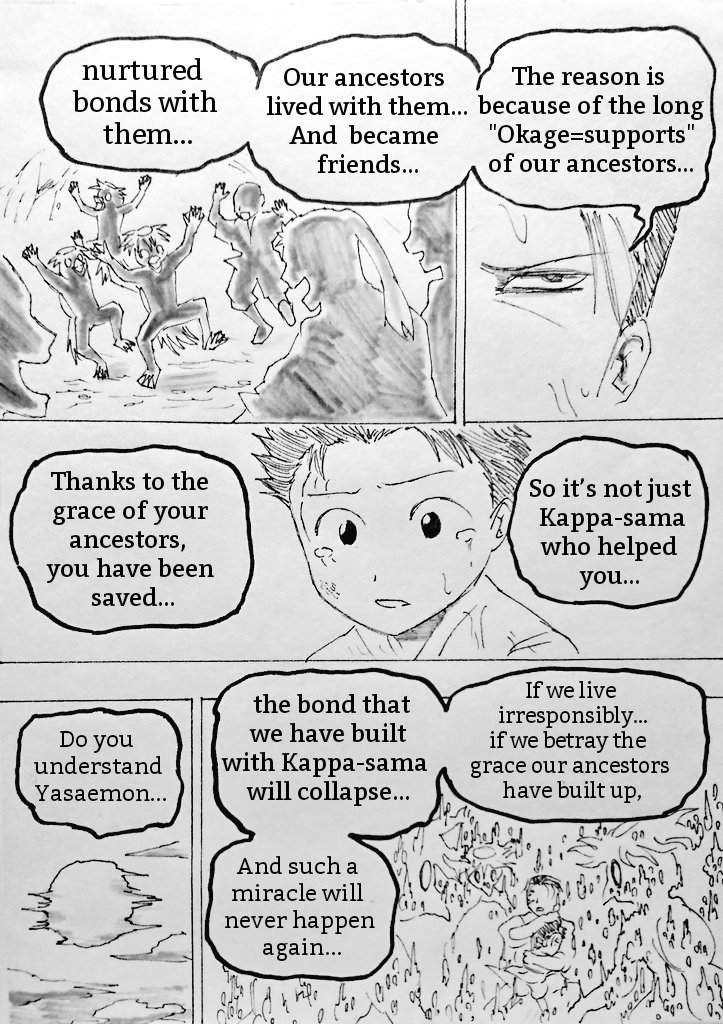 The reason is because of the long "Okage=supports" of our ancestors…
Our ancestors lived with them...And became friends...nurtured bonds with them...
So it's not just Kappa-sama who helped you…Thanks to the grace of your ancestors, you have been saved...
If we live irresponsibly...if we betray the grace our ancestors have built up, the bond that we have built with Kappa-sama will collapse...
And such a miracle will never happen again...
Do you understand Yasaemon…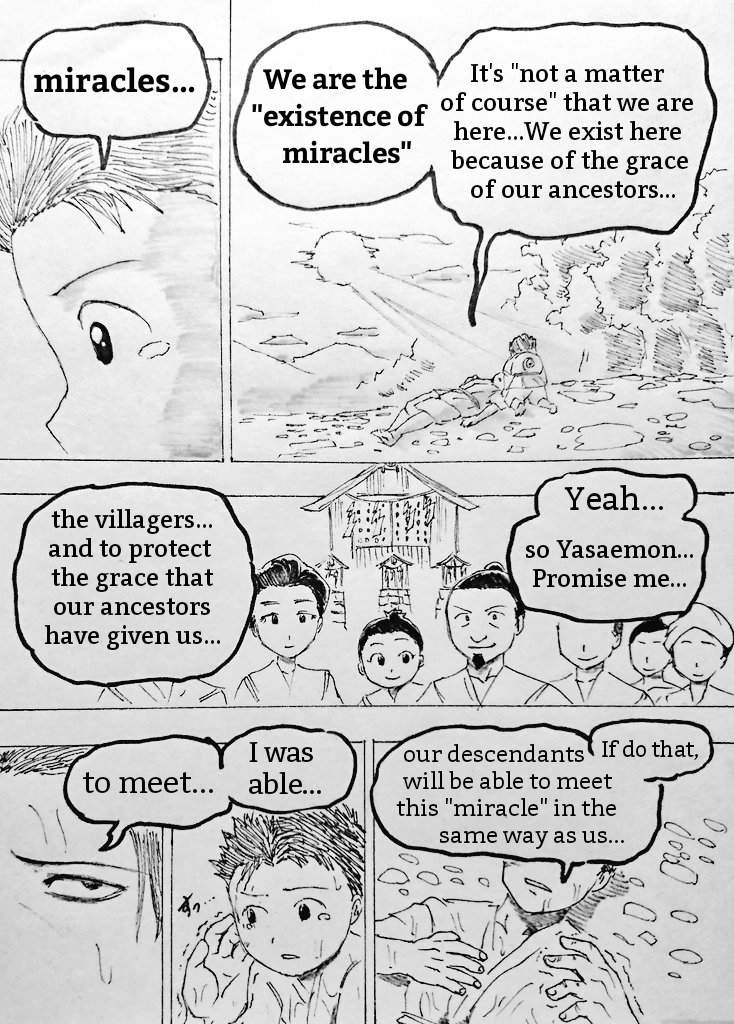 It's "not a matter of course" that we are here...
We exist here because of the grace of our ancestors...We are the "existence of miracles"…
miracles…
Yeah…so Yasaemon…Promise me…
the villagers...and to protect the grace that our ancestors have given us...
If do that, our descendants will be able to meet this "miracle" in the same way as us…
I was able…to meet...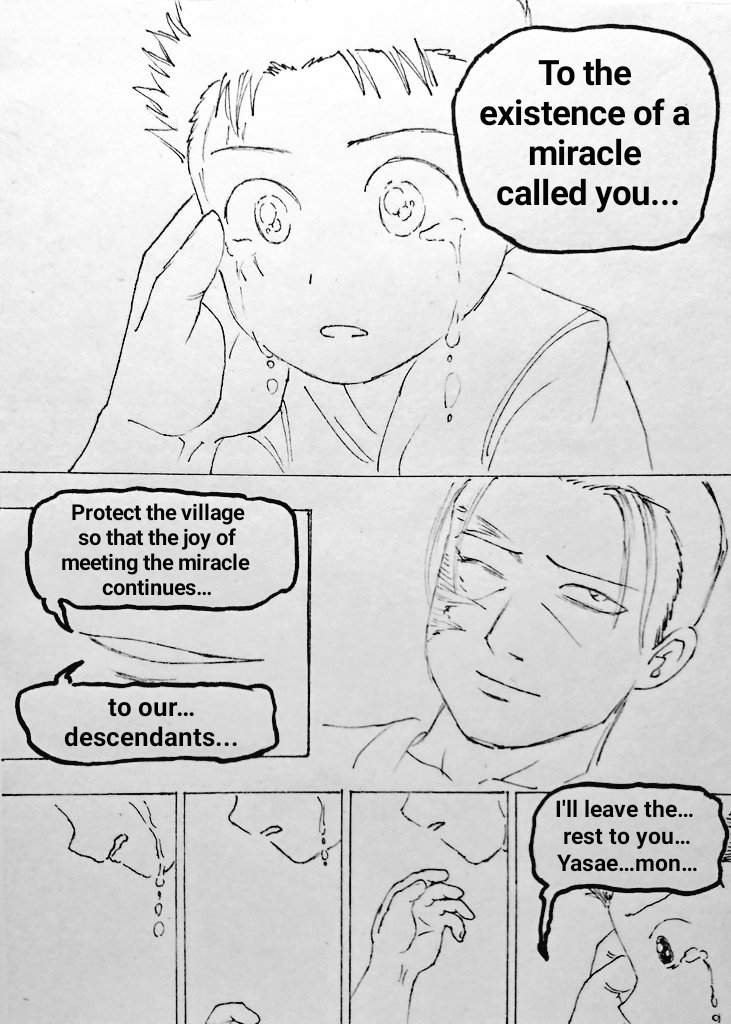 To the existence of a miracle called you...
Protect the village so that the joy of meeting the miracle continues…to our…descendants...
I'll leave the…rest to you…Yasae…mon…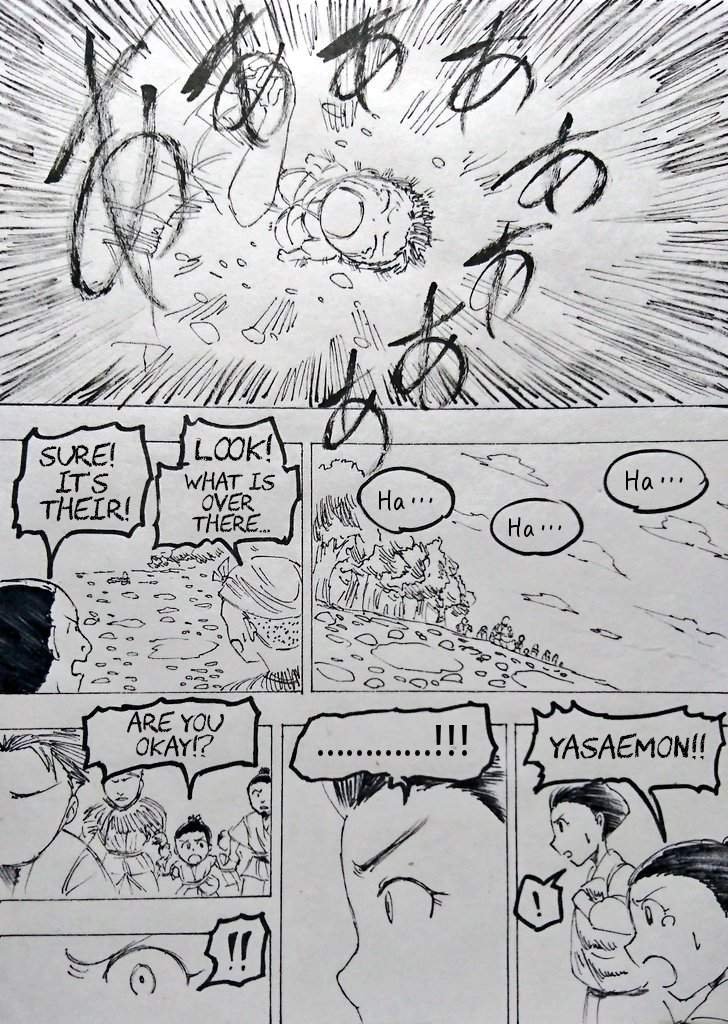 Look! What is over there…
Sure! It's their!
Yasaemon!! Are you okay!?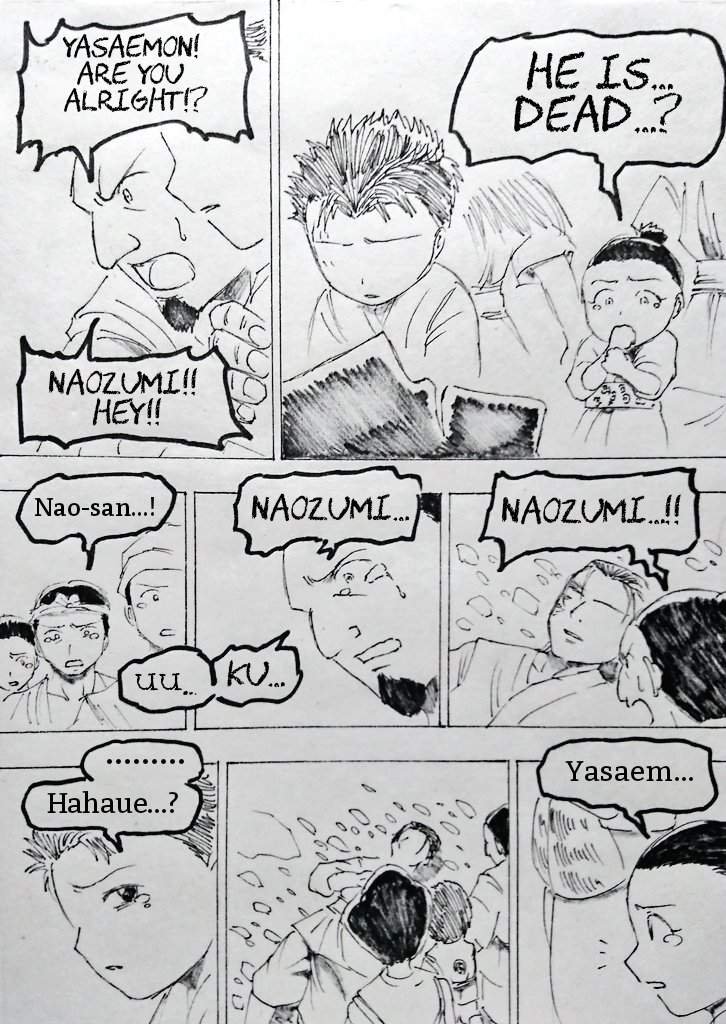 He is…dead…?
Yasaemon! Are you alright!?
Naozumi!! Hey!!
Naozumi…!!
Nao-san…!
Yasaem…
Hahaue…?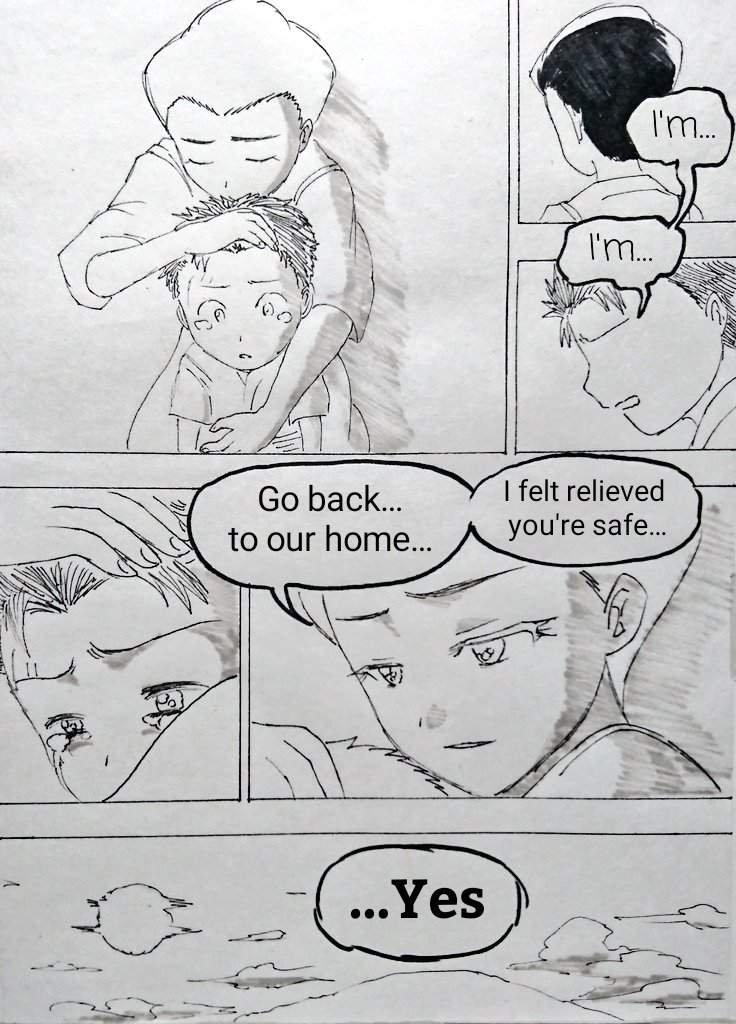 I'm… I'm…
I felt relieved you're safe…
Go back…to our home…
…Yes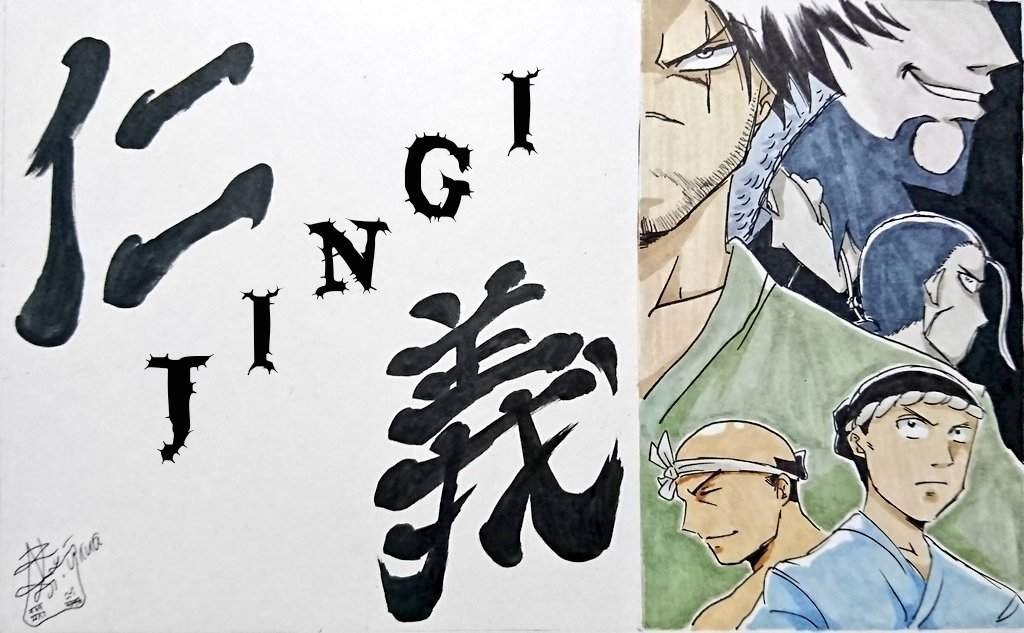 That's the end of the chapter32
The next chapter will be posted on September September 24 (6 days later)
Thank you for reading!
Arigatou gozaimashita!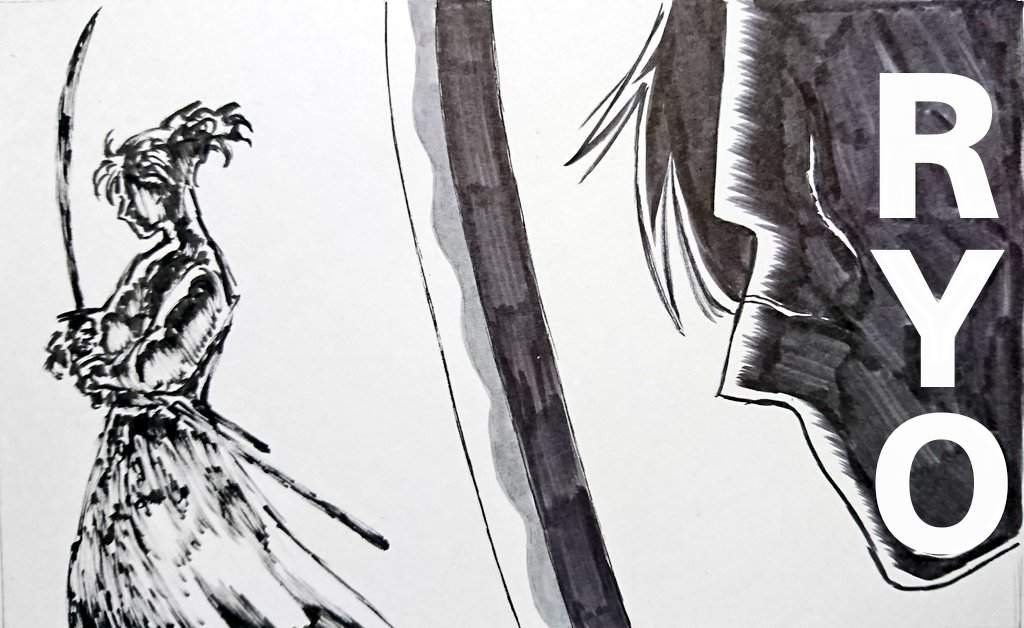 Have not you seen the -Jingi-仁義 series yet?
My Original Samurai manga -Jingi-仁義 can be seen here!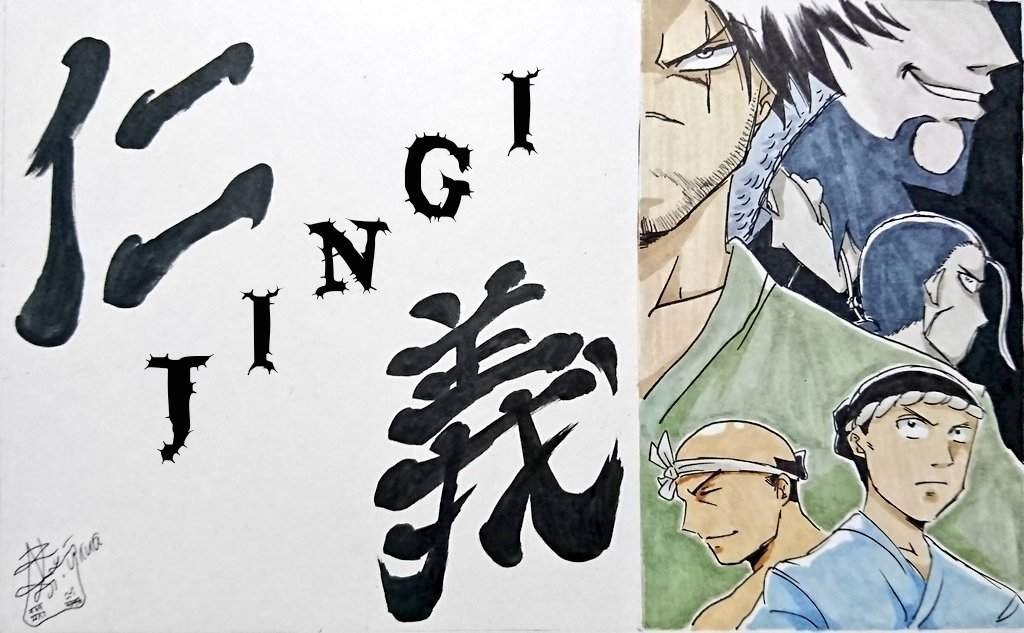 Chapter 1-2-3
https://partiko.app/@ryo-6414/the-samurai-manga-jingi-chapter-123-tqjpkwtb
Chapter 4-5-6
https://partiko.app/ryo-6414/my-original-samurai-manga-jingi-chapter-456-mmtejmci?referrer=ryo-6414
Chapter7
https://partiko.app/@ryo-6414/the-samurai-manga-jingi-chapter7-grqawewf
Chapter8
https://partiko.app/@ryo-6414/the-samurai-manga-jingi-chapter8-ttoreio0
Chapter9
https://partiko.app/@ryo-6414/the-samurai-manga-jingi-chapter9-hsqg1hln
Chapter10
https://partiko.app/@ryo-6414/the-samurai-manga-jingi-chapter10-ndtrvpio
Chapter11
https://partiko.app/@ryo-6414/the-samurai-manga-jingi-chapter11-u1uou8kh
Chapter12
https://partiko.app/@ryo-6414/the-samurai-manga-jingi-chapter12-amvjv9zp
Chapter13
https://partiko.app/@ryo-6414/the-samurai-manga-jingi-chapter13-bmpvkucw
Chapter14
https://partiko.app/@ryo-6414/the-samurai-manga-jingi-chapter14-ei5ga7kk
Chapter15
https://partiko.app/ryo-6414/the-samurai-manga-jingi-chapter15-bzsgcipn?referrer=ryo-6414
Chapter16
https://partiko.app/ryo-6414/my-original-samurai-manga-jingi-chapter16-2erk8o7d?referrer=ryo-6414
Chapter17
https://partiko.app/ryo-6414/my-original-samurai-manga-jingi-chapter17-zkggrwuu?referrer=ryo-6414
Chapter18
https://partiko.app/ryo-6414/my-original-samurai-manga-jingi-chapter18-gs27fsdh?referrer=ryo-6414
Chapter19
https://partiko.app/ryo-6414/my-original-samurai-manga-jingi-chapter19-lrnweqqi?referrer=ryo-6414
Chapter20
https://partiko.app/ryo-6414/my-original-samurai-manga-jingi-chapter20-2en9sfrq?referrer=ryo-6414
Chapter21
https://partiko.app/ryo-6414/my-original-samurai-manga-jingi-chapter21-vu8lonac?referrer=ryo-6414
Chapter22
https://partiko.app/ryo-6414/my-original-samurai-manga-jingi-chapter22-5fusqjsh?referrer=ryo-6414
Chapter23
https://partiko.app/ryo-6414/my-original-samurai-manga-jingi-chapter23?referrer=ryo-6414
Chapter24
https://partiko.app/ryo-6414/my-original-samurai-manga-jingi-chapter24?referrer=ryo-6414
Chapter25
https://partiko.app/ryo-6414/jyjmg-my-original-samurai-manga-jingi-chapter25?referrer=ryo-6414
Chapter26
https://partiko.app/ryo-6414/my-original-samurai-manga-jingi-chapter26?referrer=ryo-6414
Chapter27
https://partiko.app/ryo-6414/my-original-samurai-manga-jingi-chapter27?referrer=ryo-6414
Chapter28
https://partiko.app/ryo-6414/my-original-samurai-manga-jingi-chapter28?referrer=ryo-6414
Chapter29
https://partiko.app/ryo-6414/my-original-samurai-manga-jingi-chapter29?referrer=ryo-6414
Chapter30
https://partiko.app/ryo-6414/my-original-samurai-manga-jingi-chapter30?referrer=ryo-6414
Chapter31
https://partiko.app/ryo-6414/my-original-samurai-manga-jingi-chapter31?referrer=ryo-6414
All my mangas drawn in "Washi(和紙)"
It is a traditional Japanese paper made from 1300 years ago.
This is my Washi of post↓
https://steemit.com/traditional/@ryo-6414/washi-is-process-work-dlm5nqgq