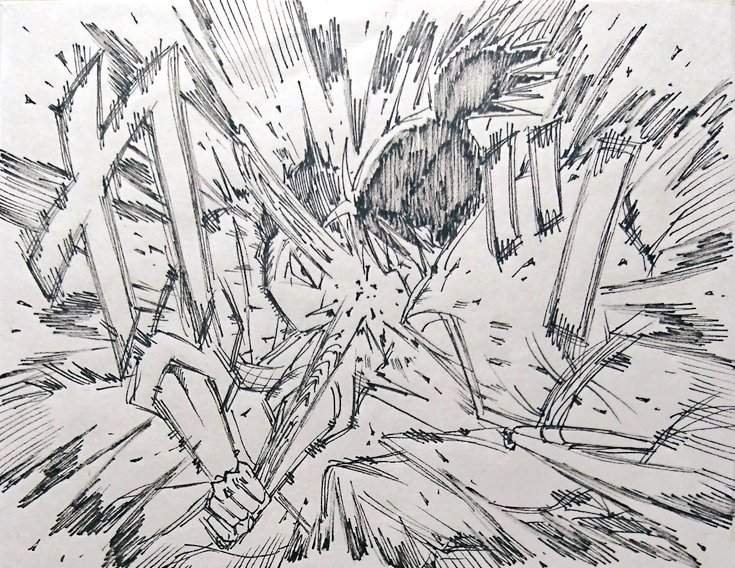 Hello steemians!
I am RYO!
Chapter26 is completed!
The latest Chapter of -Jingi- can only be read on the steemit!
About hints to read manga before
Read manga from the right
Red word are Japanese. The meaning is written in (※)
If you do not understand how to read manga please read the sentences under the picture. It's written in the order of manga
Please enjoy -Jingi-!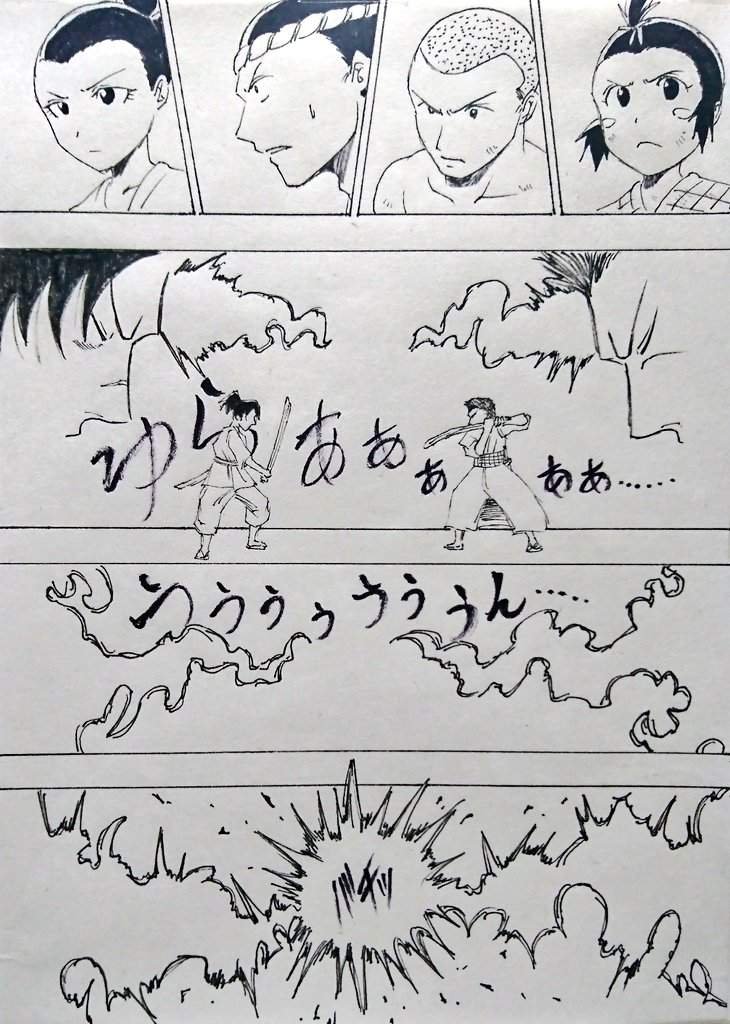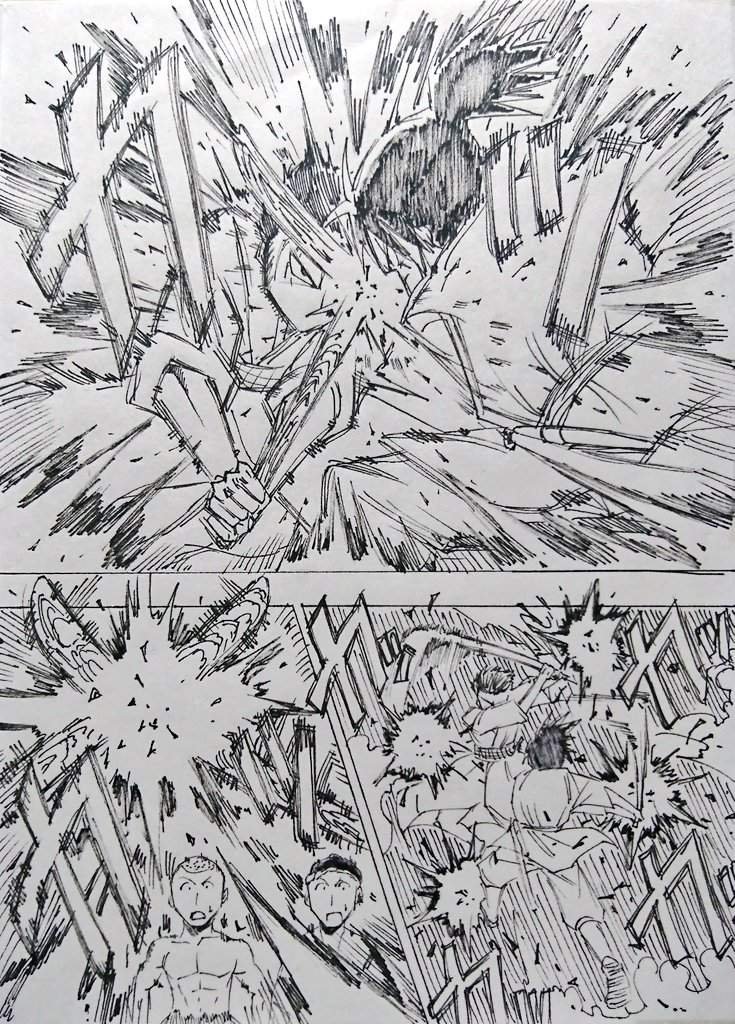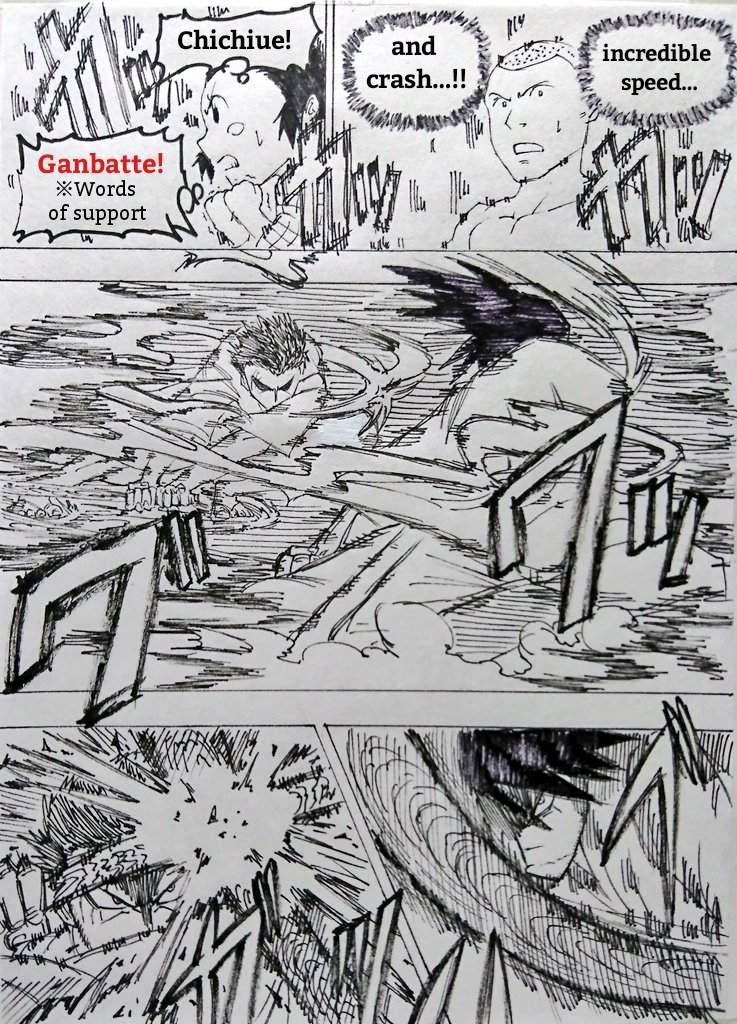 incredible speed…and crash…!!
Chichiue! "Ganbatte!=※Words of support"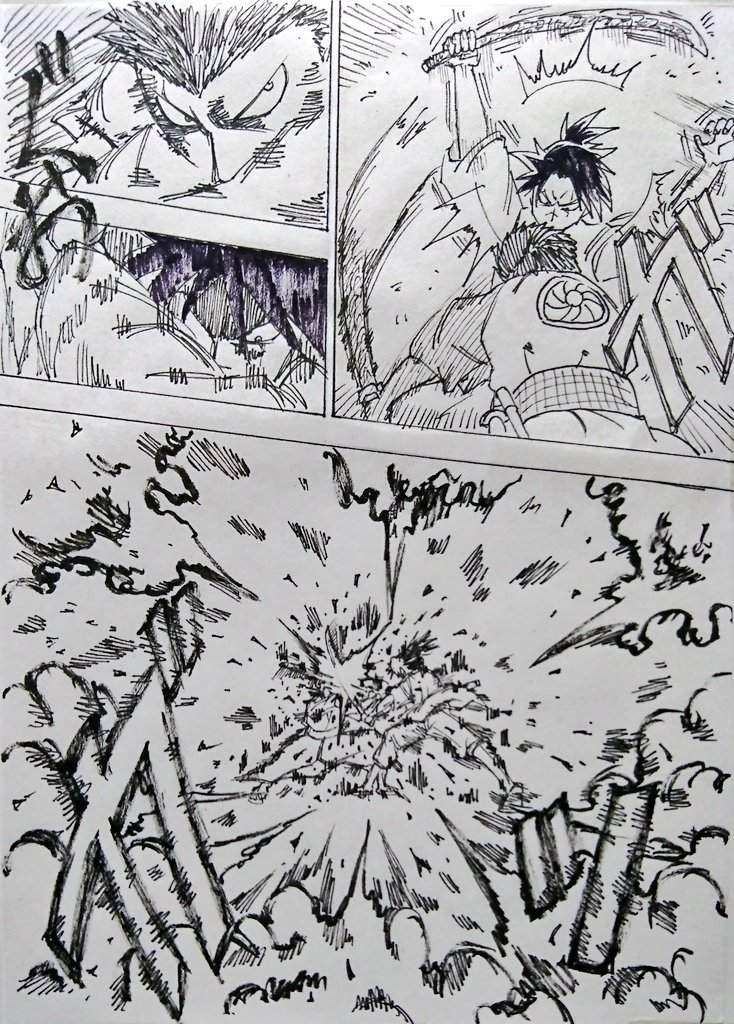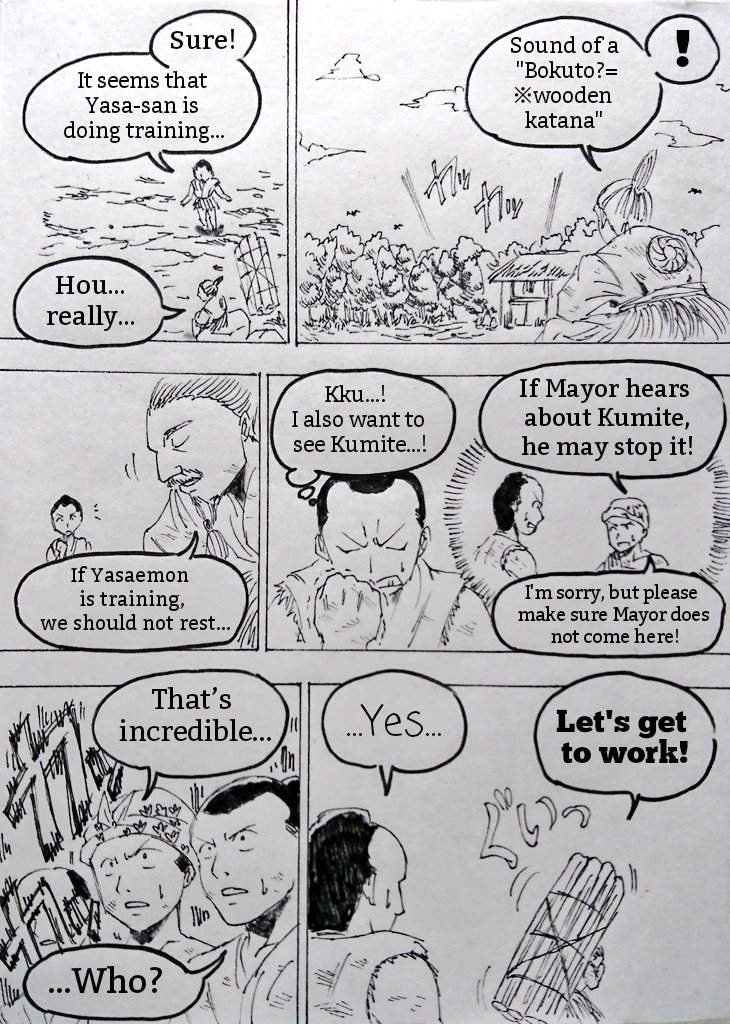 Sound of a "Bokutou?=※wooden katana"
Sure! It seems that Yasa-san is doing training…
Hou…really…
If Mayor hears about Kumite, he may stop it! I'm sorry, but please make sure Mayor does not come here!
Kku…! I also want to see Kumite…!
If Yasaemon is training, we should not rest…
Let's get to work!
…Yes…
That's incredible…
…Who?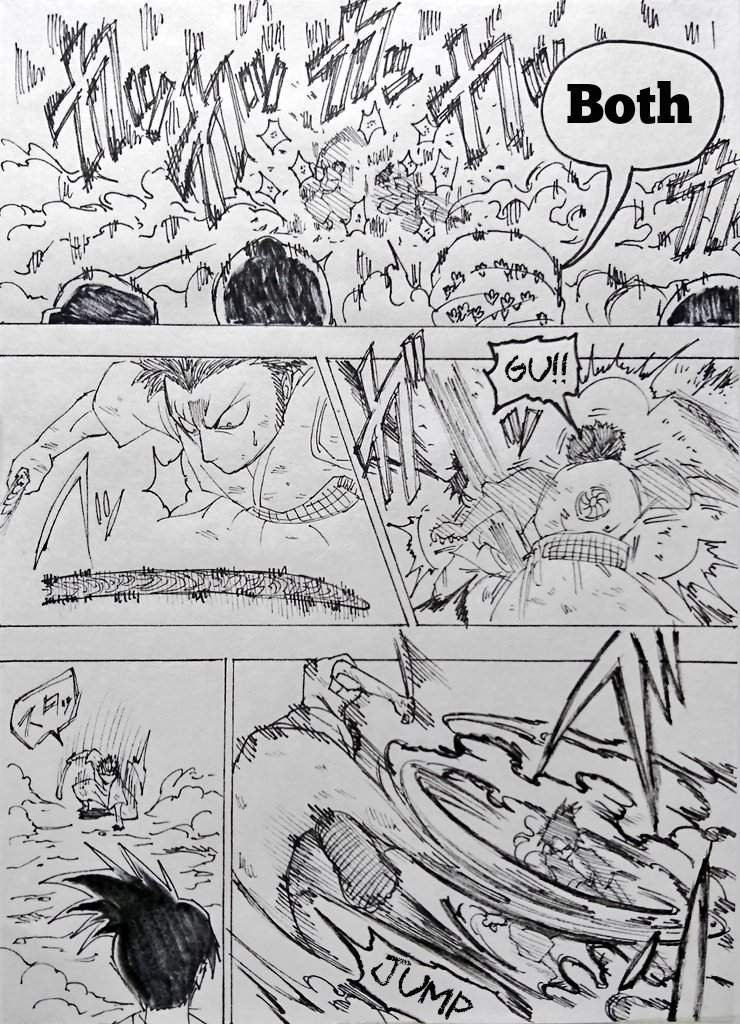 Both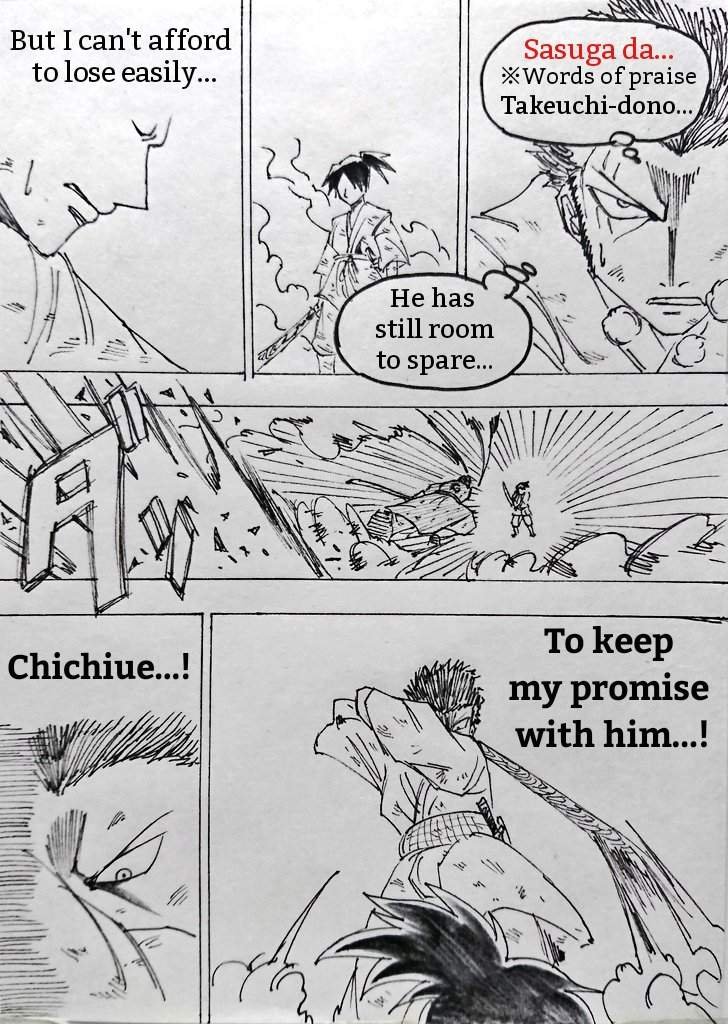 "Sasuga da…=※Words of praise"
Takeuchi-dono…
He has still room to spare…
But I can't afford to lose easily…
To keep my promise with him…!
"Chichiue…!=※My father"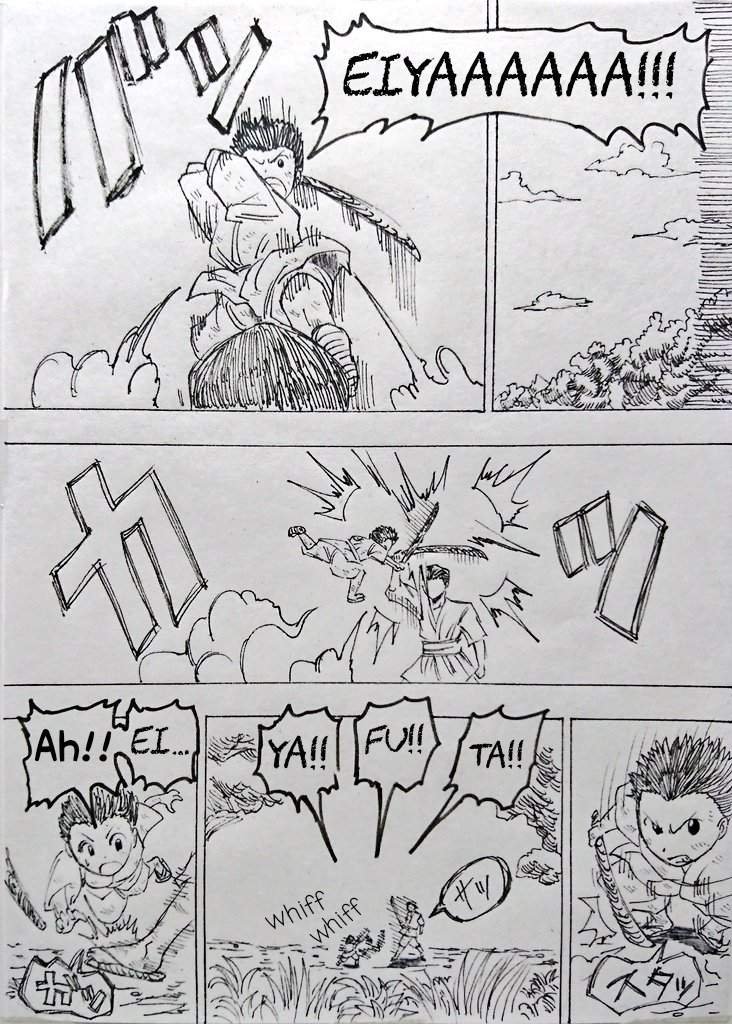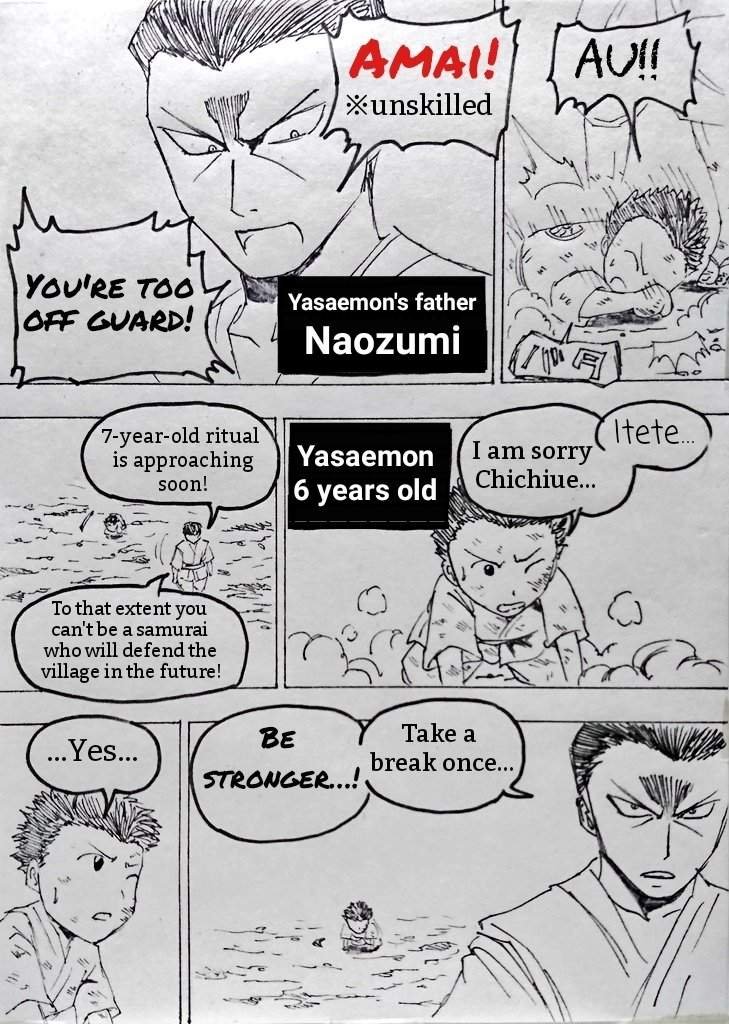 "Amai!=※unskilled"
You're too off guard!
Itete…I am sorry Chichiue…
7-year-old ritual is approaching soon!
To that extent you can't be a samurai who will defend the village in the future!
Take a break once…
Be stronger…!
…Yes…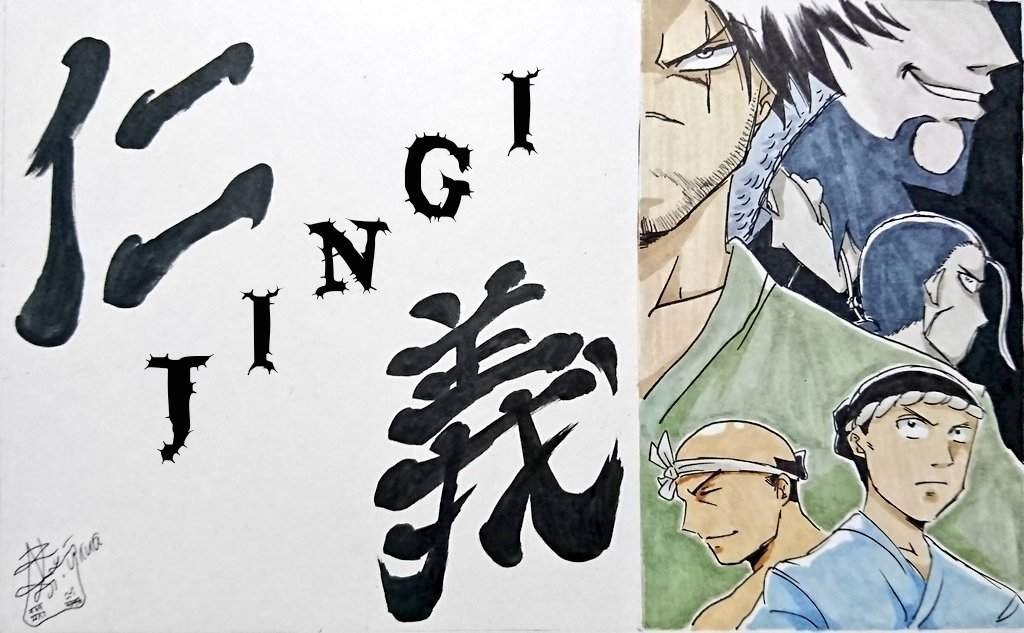 Process of -jingi-
Usually I'm so concentrated when drawing manga, so I can't take too many process photos😅
However, this time I was able to afford it, so I took some photos of the process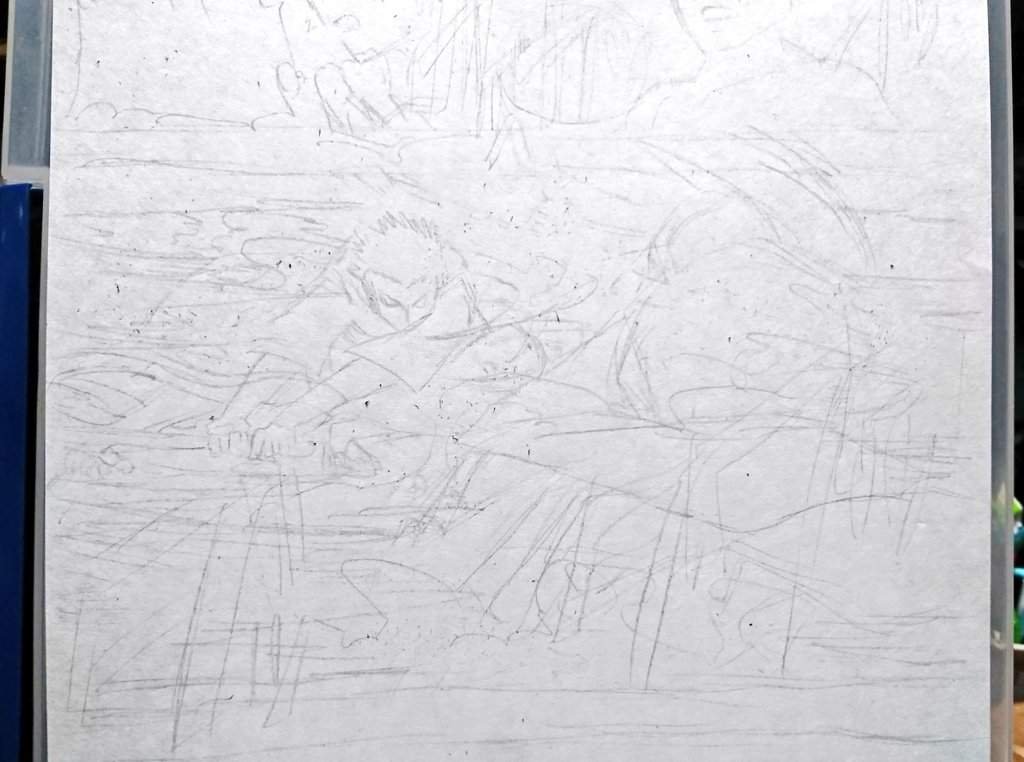 The paper(japanese traditional paper "Washi") I use is very delicate so I can't draft strongly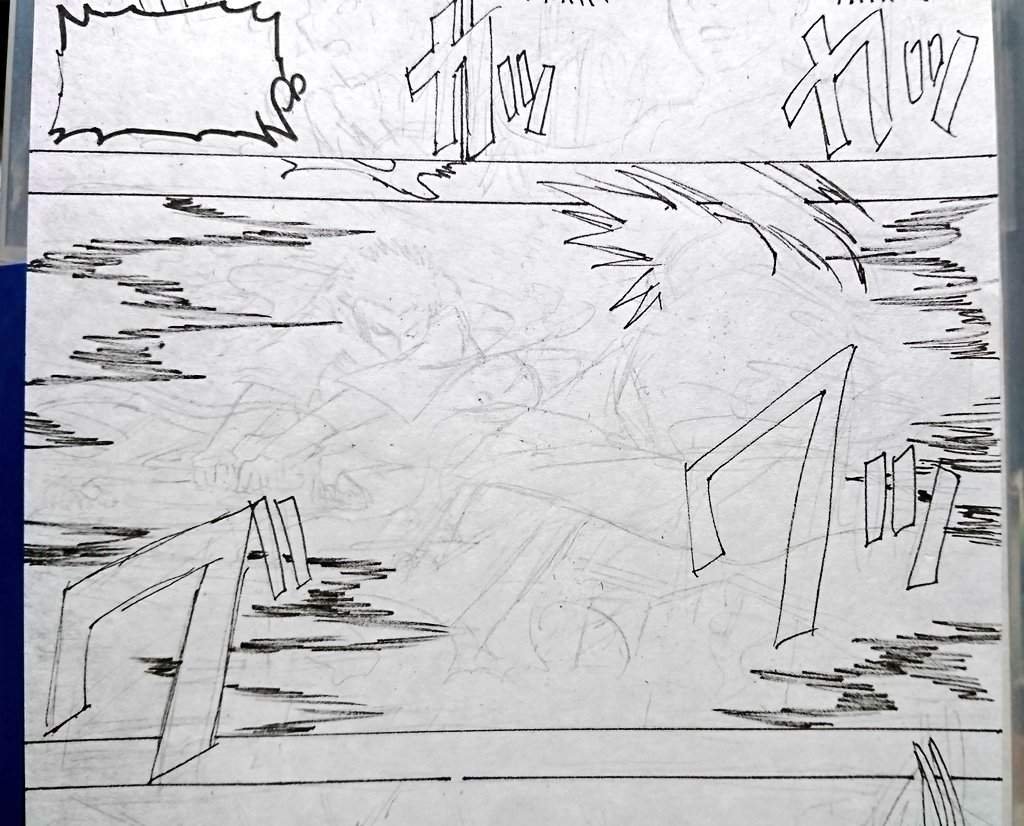 Then I draw a big effect(Wind and smoke etc)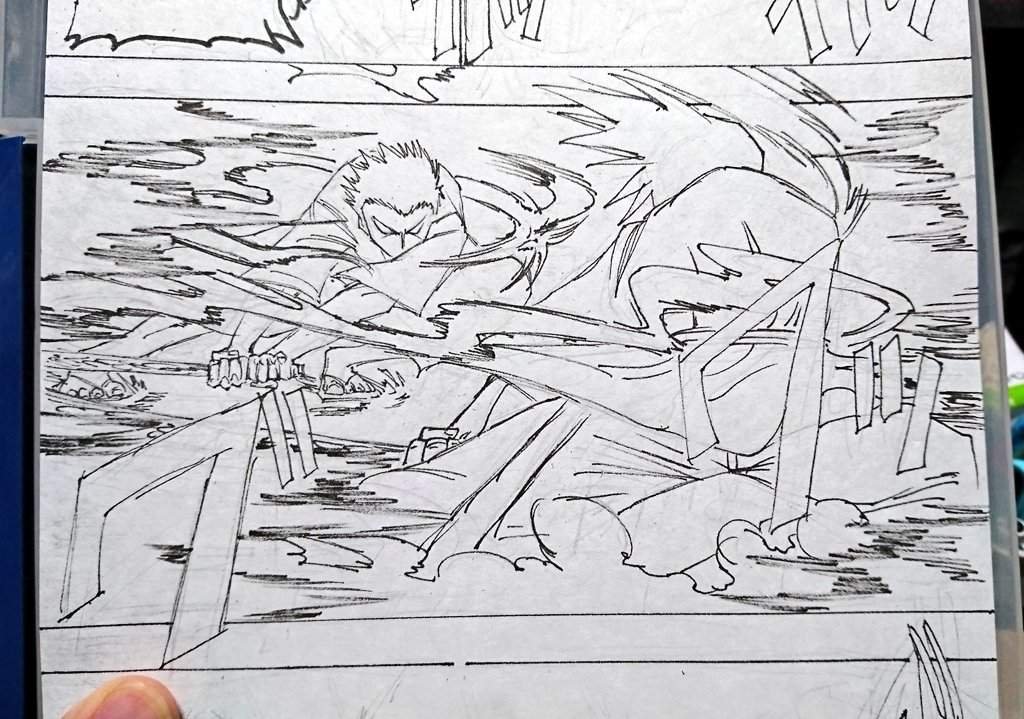 At this point I erase the draft with the eraser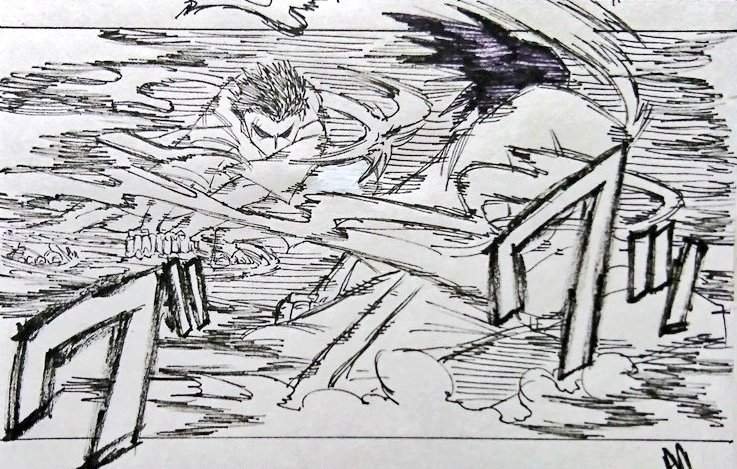 And completion.
I want to draw the best action scene possible.
Recent dragon ball movies are very "flashy",
I aim to draw an action that makes the reader feel such "speed" and "vibration"
In future chapters, I will aim to draw more advanced action scenes, so if you are interested please follow the -Jingi-!
Thank you for reading!
Arigatou gozaimashita!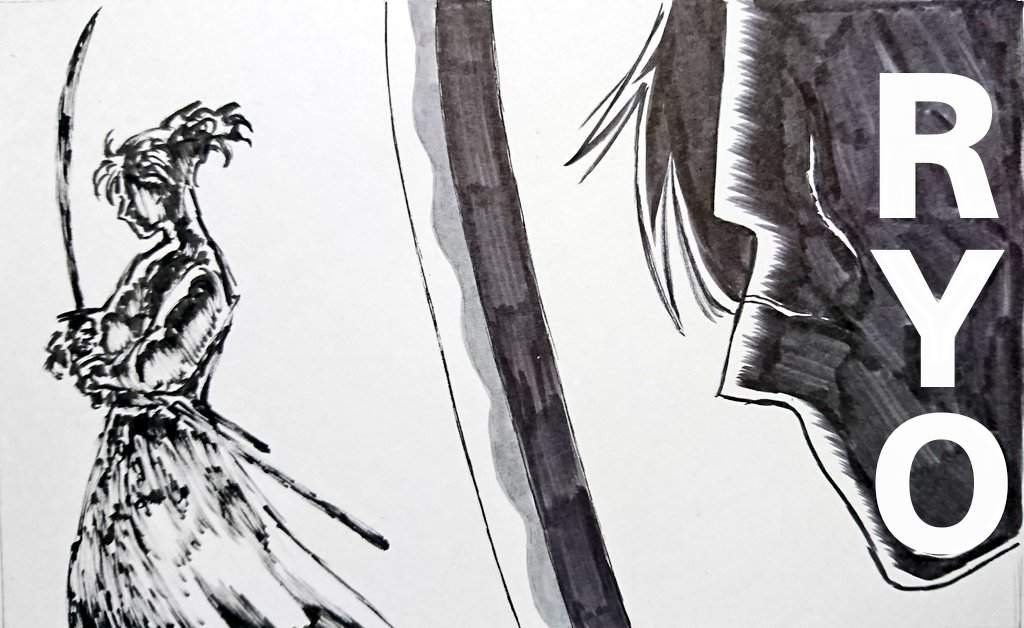 Have not you seen the -Jingi-仁義 series yet?
My Original Samurai manga -Jingi-仁義 can be seen here!
Chapter 1-2-3
https://partiko.app/@ryo-6414/the-samurai-manga-jingi-chapter-123-tqjpkwtb
Chapter 4-5-6
https://partiko.app/ryo-6414/my-original-samurai-manga-jingi-chapter-456-mmtejmci?referrer=ryo-6414
Chapter7
https://partiko.app/@ryo-6414/the-samurai-manga-jingi-chapter7-grqawewf
Chapter8
https://partiko.app/@ryo-6414/the-samurai-manga-jingi-chapter8-ttoreio0
Chapter9
https://partiko.app/@ryo-6414/the-samurai-manga-jingi-chapter9-hsqg1hln
Chapter10
https://partiko.app/@ryo-6414/the-samurai-manga-jingi-chapter10-ndtrvpio
Chapter11
https://partiko.app/@ryo-6414/the-samurai-manga-jingi-chapter11-u1uou8kh
Chapter12
https://partiko.app/@ryo-6414/the-samurai-manga-jingi-chapter12-amvjv9zp
Chapter13
https://partiko.app/@ryo-6414/the-samurai-manga-jingi-chapter13-bmpvkucw
Chapter14
https://partiko.app/@ryo-6414/the-samurai-manga-jingi-chapter14-ei5ga7kk
Chapter15
https://partiko.app/ryo-6414/the-samurai-manga-jingi-chapter15-bzsgcipn?referrer=ryo-6414
Chapter16
https://partiko.app/ryo-6414/my-original-samurai-manga-jingi-chapter16-2erk8o7d?referrer=ryo-6414
Chapter17
https://partiko.app/ryo-6414/my-original-samurai-manga-jingi-chapter17-zkggrwuu?referrer=ryo-6414
Chapter18
https://partiko.app/ryo-6414/my-original-samurai-manga-jingi-chapter18-gs27fsdh?referrer=ryo-6414
Chapter19
https://partiko.app/ryo-6414/my-original-samurai-manga-jingi-chapter19-lrnweqqi?referrer=ryo-6414
Chapter20
https://partiko.app/ryo-6414/my-original-samurai-manga-jingi-chapter20-2en9sfrq?referrer=ryo-6414
Chapter21
https://partiko.app/ryo-6414/my-original-samurai-manga-jingi-chapter21-vu8lonac?referrer=ryo-6414
Chapter22
https://partiko.app/ryo-6414/my-original-samurai-manga-jingi-chapter22-5fusqjsh?referrer=ryo-6414
Chapter23
https://partiko.app/ryo-6414/my-original-samurai-manga-jingi-chapter23?referrer=ryo-6414
Chapter24
https://partiko.app/ryo-6414/my-original-samurai-manga-jingi-chapter24?referrer=ryo-6414
Chapter25
https://partiko.app/ryo-6414/jyjmg-my-original-samurai-manga-jingi-chapter25?referrer=ryo-6414
All my mangas drawn in "Washi(和紙)"
It is a traditional Japanese paper made from 1300 years ago.
This is my Washi of post↓
https://steemit.com/traditional/@ryo-6414/washi-is-process-work-dlm5nqgq