Hello steemians!
I am RYO!
About a month has passed since the chapter6 of last month, but at last the chapter7 was completed😀
This chapter7 is like a season 1 end of the drama series, Since the next chapter will start a new season!
I am writing a script for that, and I am studying a lot of materials in the Edo period(About 1600-1870)
The Edo period was the era when Japanese culture was established, but since that time it has continued cultural collapse and reaches the present.
I am Japanese, but the Edo period is completely different from now…So I have a lot to learn about it yet.
Well, Let's begin the chapter7 of -Jingi- soon.
Synopsis of the story so far↓
The battle between Takeuchi Shinden(Hero) and Yoshida(New Meiji government) finished with Takeuchi's victory…
But, Yoshida still trying to hurt the villager…Then one man came to stop it…He is a government "Youjinbou(用心棒)=※bodyguard samurai ver"
Is he a friend or an enemy ...?
About hints to read manga before
Read manga from the right
Red word are Japanese. The meaning is written in (※)
If you do not understand how to read manga please read the sentences under the picture. It's written in the order of manga
Then please enjoy -Jingi-!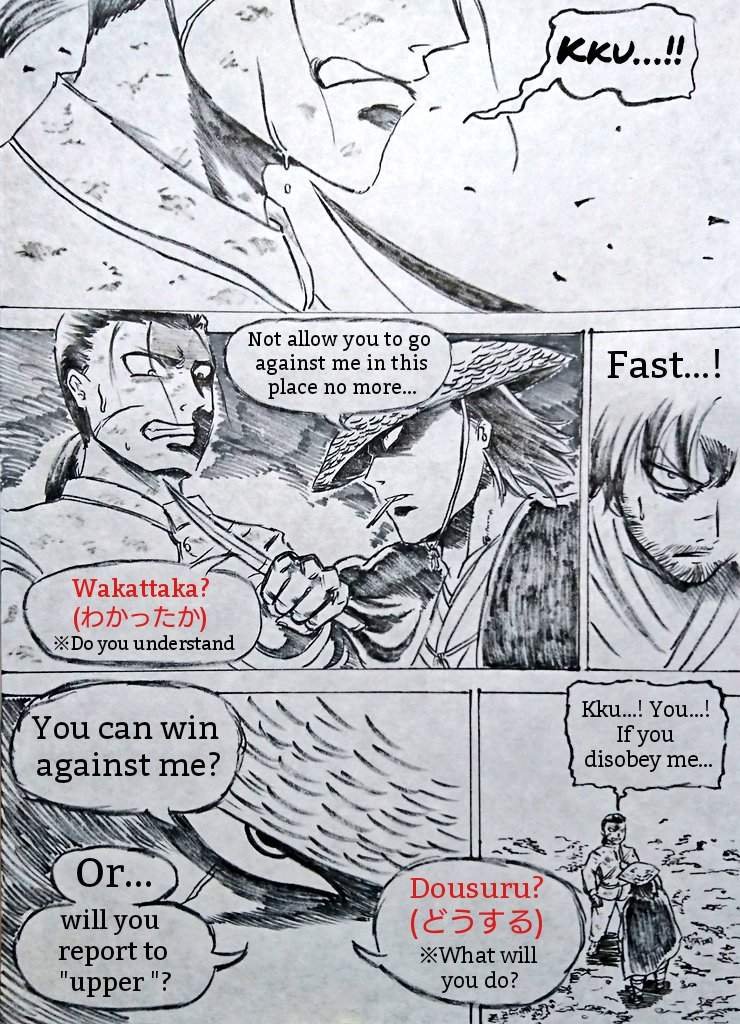 Kku…!!
Fast…!
Not allow you to go against me in this place no more…"Wakattaka?(わかったか?)=※Do you understand?"
Kku…! You…! If you disobey me…
"Dousuru?(どうする?)=※What will you do?" You can win against me? Or…will you report to "upper "?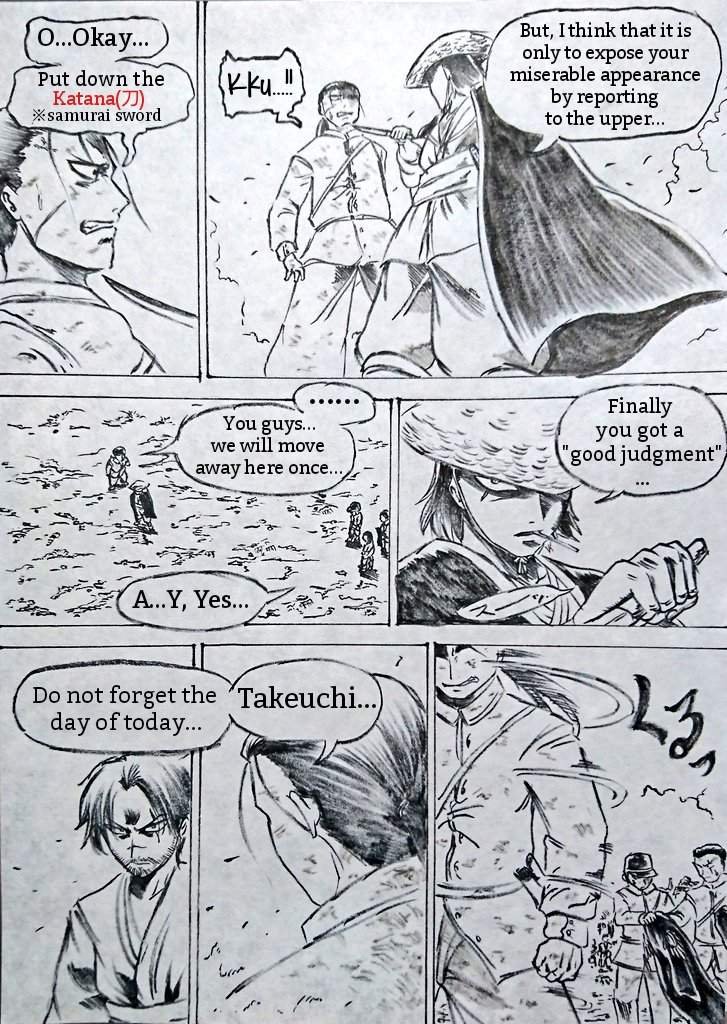 But, I think that it is only to expose your miserable appearance by reporting to the upper...
Kku…!!
O…Okay…Put down the "Katana(刀)=※samurai sword"
Finally you got a "good judgment"…
You guys…we will move away here once…
A…Y, Yes…
Takeuchi…
Do not forget the day of today…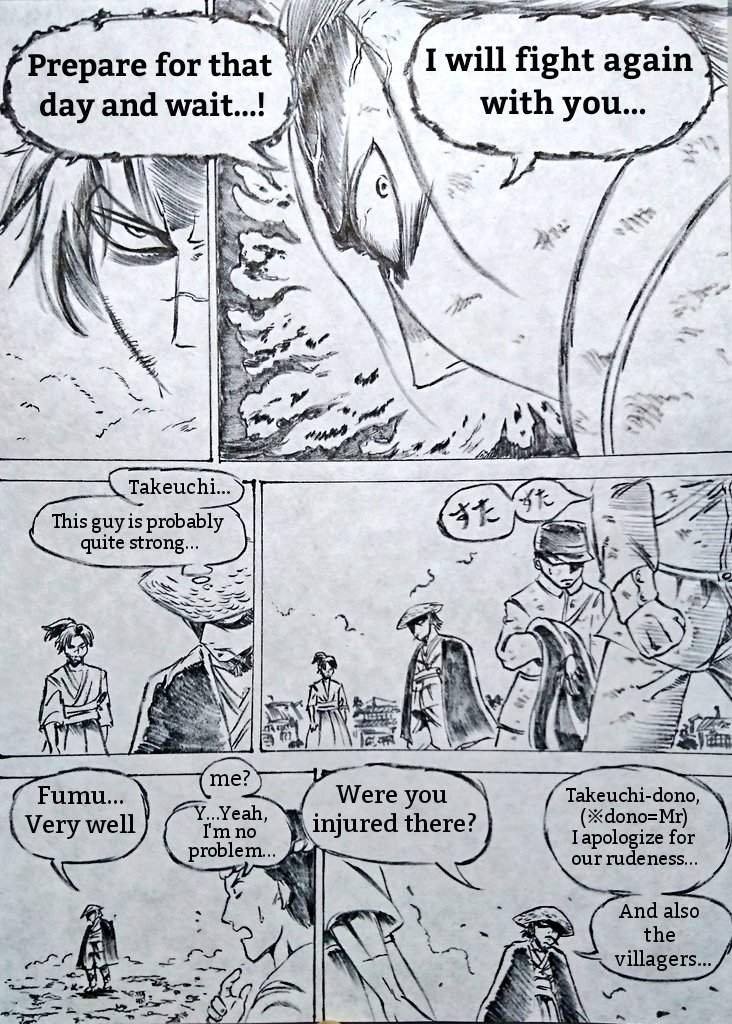 I will fight again with you...Prepare for that day and wait…!
Takeuchi…This guy is probably quite strong…
Takeuchi-dono, I apologize for our rudeness…
And also the villagers…Were you injured there?
me? Y…Yeah, I'm no problem…
Fumu…very well…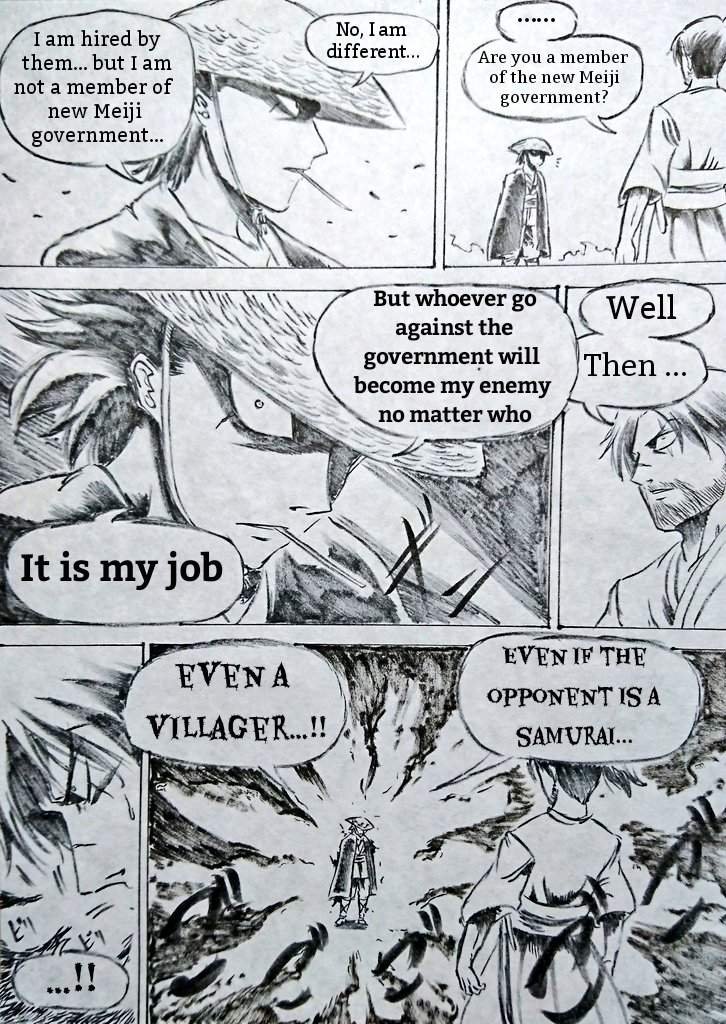 Are you a member of the new Meiji government?
No, I am different…I am hired by them…but I am not a member of new Meiji government…
Well, Then ...
But whoever go against the government will become my enemy no matter who
It is my job
Even if the opponent is a samurai...even a villager…!!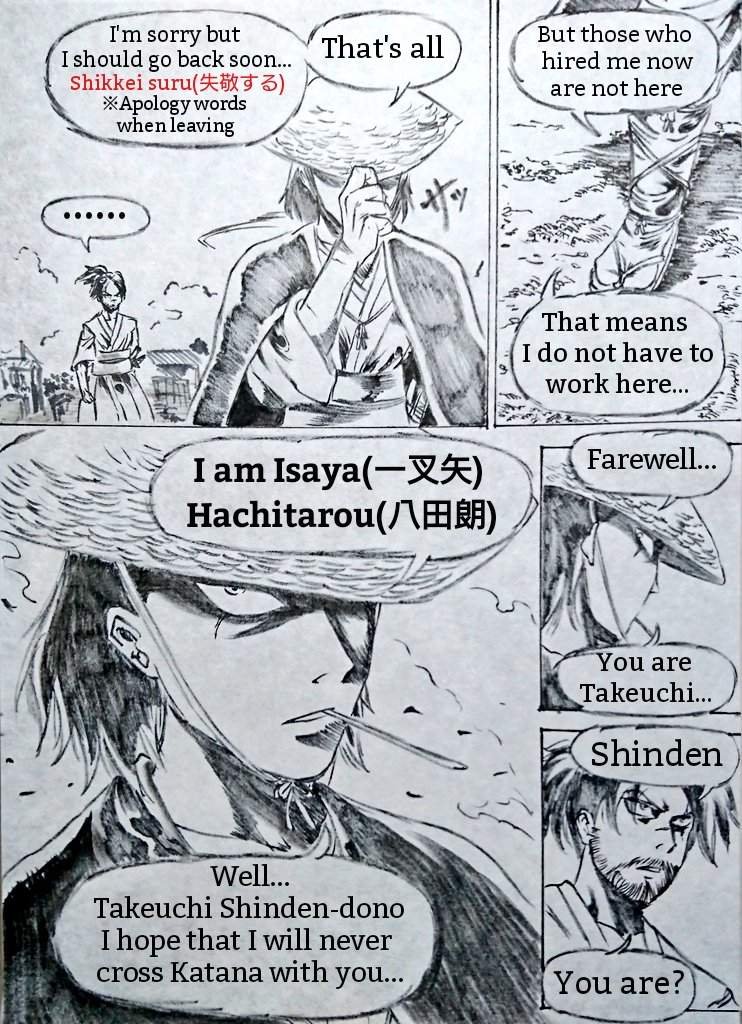 But those who hired me now are not here
That means I do not have to work here…
That's all, I'm sorry but I should go back soon..."Shikkei suru(失敬する)=※
Apology words when leaving"
Farewell…You are Takeuchi(竹内)…
Shinden(真伝) You are?
I am Isaya(一叉矢) Hachitarou(八田朗)=※Last name=Isaya, First name Hachitarou
Well…Takeuchi Shinden-dono,
I hope that I will never cross Katana with you…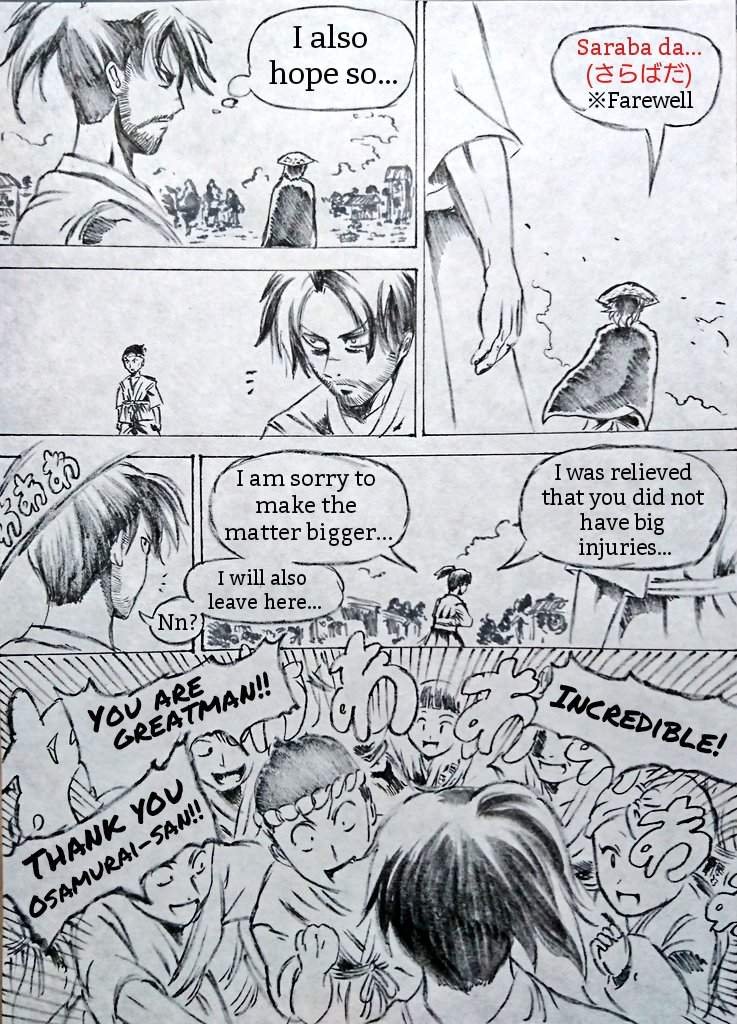 "Saraba da…(さらばだ)=※Farewell"
I also hope so…
I was relieved that you did not have big injuries…
I am sorry to make the matter bigger
I will also leave here…Nn?
Incredible! you are greatman! Thank you Osamurai-san!!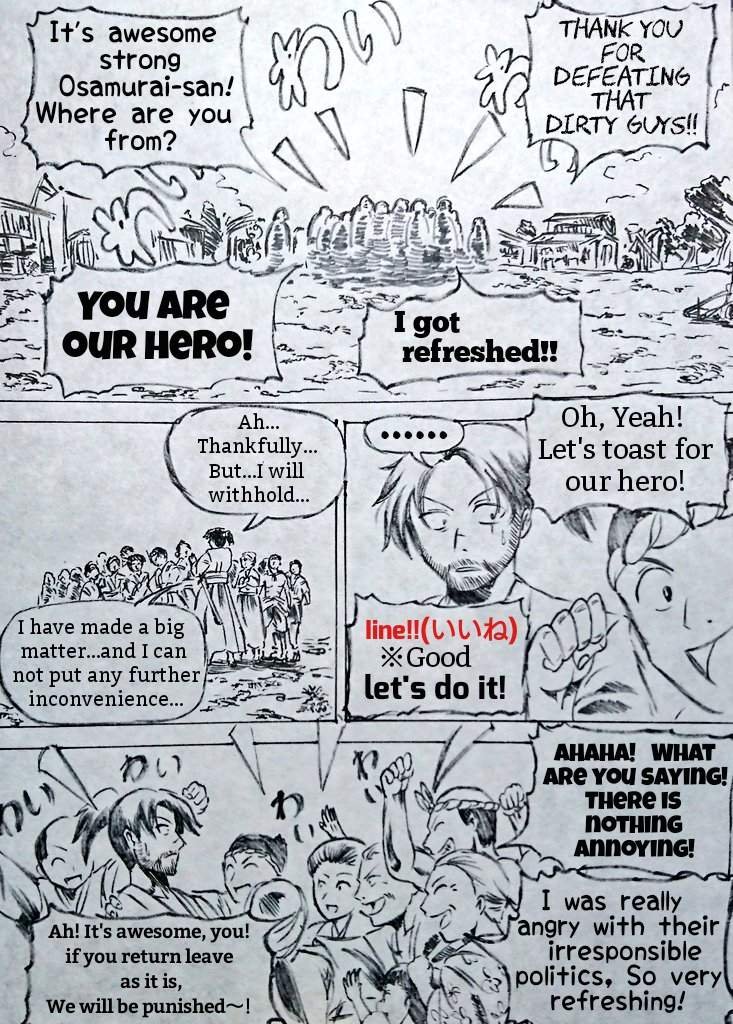 Thank you for defeating that dirty guys!!
I got refreshed!!
It's awesome strong Osamurai-san!
Where are you from?
You are our hero!
Oh, Yeah! Let's toast for our hero!
" Iine!(いいね)=※Good" let's do it!
Thankfully…But…I will withhold…
I have made a big matter…and I can not put any further inconvenience…
Haha! What are you saying!
There is nothing annoying!
I was really angry with their irresponsible politics, So very refreshing!
Ah! It's awesome, you!
if you return leave as it is, We will be punished!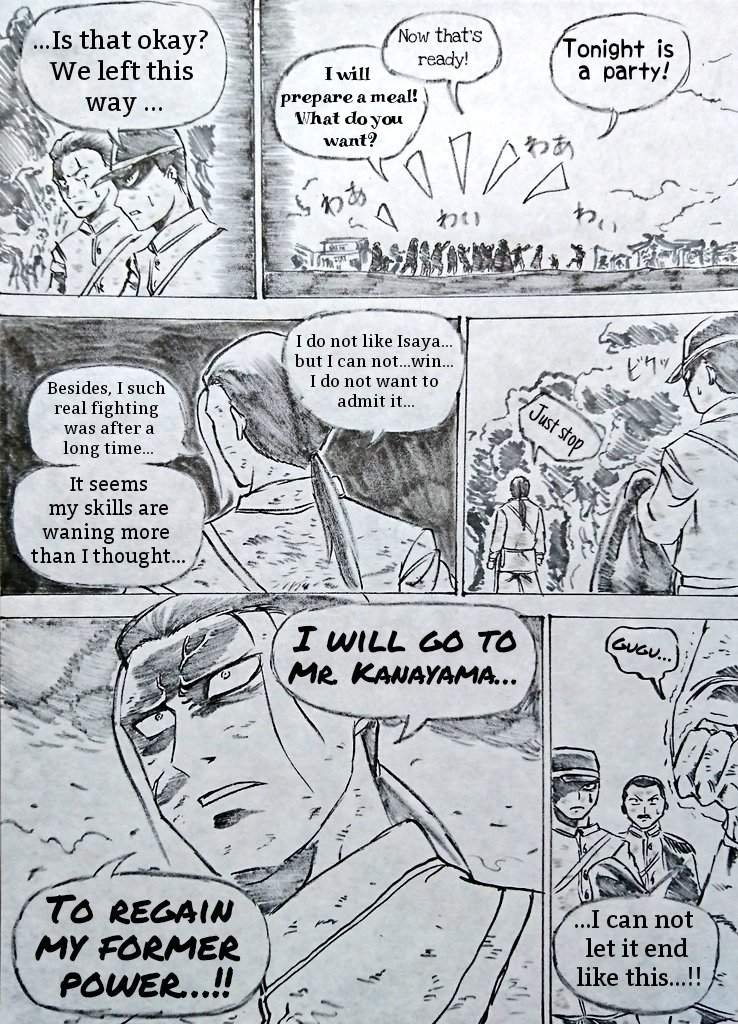 Tonight is a party!
Now that's ready!
I will prepare a meal!
What do you want?
…Is that okay? We left this way ...
I do not like Isaya…but I can not…win…I do not want to admit it…
Besides, I such real fighting was after a long time... It seems my skills are waning more than I thought ...
…I can not let it end like this…!!
I will go to Mr. Kanayama…
To regain my former power…!!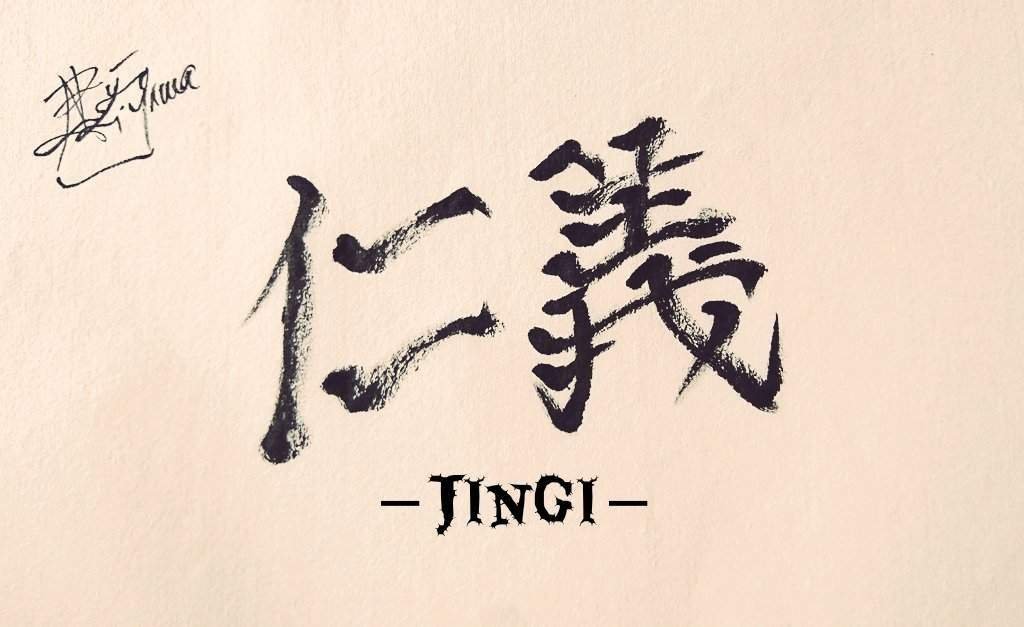 This concludes the chapter7!
I will concentrate on new chapters and future stories for a while😃
To further make -Jingi- a wonderful manga!
Arigatou gozaimashita!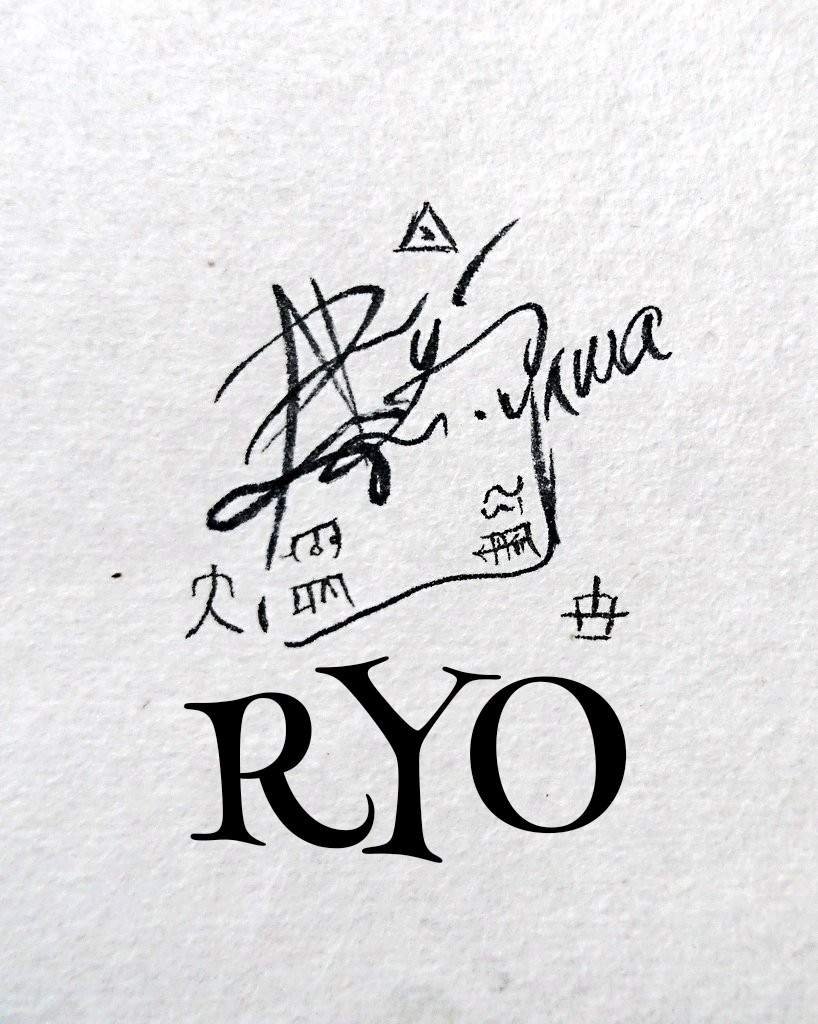 Have not you seen the -Jingi-仁義 series yet?
My Samurai manga -Jingi-仁義 can be seen here!
First Chapter
https://steemit.com/manga/@ryo-6414/the-samurai-manga-jingi-first-chapter-reedited-zdgiltjr
Chapter2
https://steemit.com/manga/@ryo-6414/the-samurai-manga-jingi-chapter2-reedited-it6po0il
Chapter3
https://steemit.com/art/@ryo-6414/jingi-episode3-rnkdpp91
Chapter4
https://steemit.com/manga/@ryo-6414/the-samurai-manga-jingi-chapter4-flhko54g
Chapter5
https://steemit.com/manga/@ryo-6414/the-samurai-manga-jingi-chapter5-howrz8l1
Chapter6
https://steemit.com/manga/@ryo-6414/the-samurai-manga-jingi-chapter6-j8jvv6db
All my mangas drawn in "Washi(和紙)"
It is a traditional Japanese paper made from 1300 years ago.
This is my Washi of post↓
https://steemit.com/traditional/@ryo-6414/washi-is-process-work-dlm5nqgq
Posted using Partiko Android