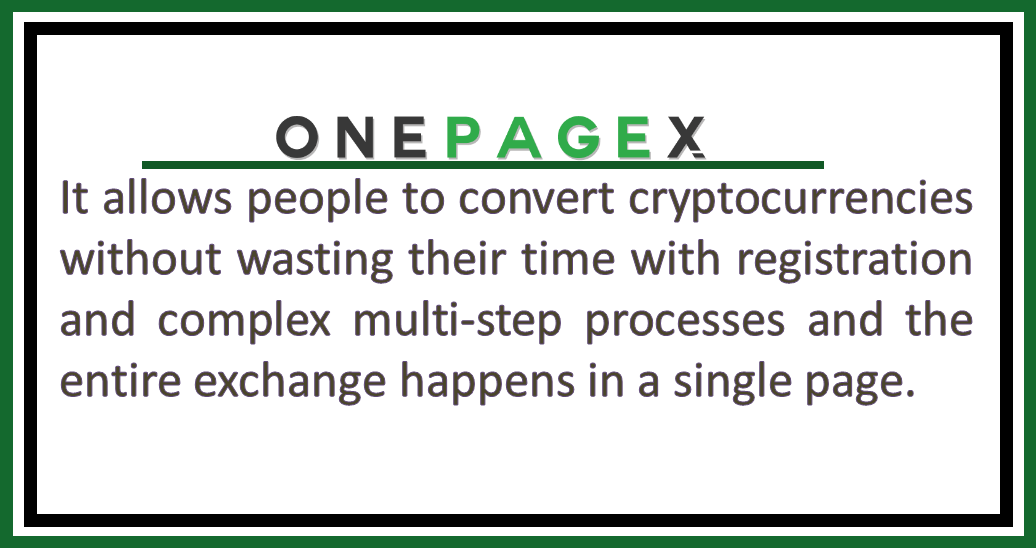 Image source: Logo from OnePageX site
The world witnessed its first ever cryptocurrency Bitcoin in 2009 and aftermath of the birth of first cryptocurrency Bitcoin, many new cryptocurrencies have evolved from time to time which all work on the top of a Blockchain technology with same or different consensus mechanism and by the year 2018, the crypto market has flourished as a well grown market and we have now more than 1500 cryptocurrencies and so many Blockchain projects. This crypto market has open up many potential opportunities for both individual and enterprises to build upon new projects and also make marketplace like crypto exchanges where people can buy other crypto assets(altcoins) with Bitcoin and vice versa.
These processes are generally done as a measure to comply with AML(Anti-Money Laundering) and KYC(Know Your Customer) policy. The exchange domain is such a big domain that only a few genuine & reputed exchanges does that in order to comply with regulatory obligations.
Some of the exchanges have nothing to do with exchange business, and their sole intention is to collect the personal data of a large number of people and then just run away.
Some of the exchanges follow a semi-anonymous procedure and they just ask for mobile number only during the registration process and you can also withdraw from the exchanges but they are limited up to a small amount only and in order to have exclusive unlimited withdrawal or higher withdrawal limits, you have to proof your identity and complete the verification procedure.
Whatever be the case, revealing personal details to an exchange and providing ID proof and Address proof exposes the following risks:-
(1) The Govt & Tax Authority will get to know your investment, profits and losses in Bitcoin.
(2) Untrustworthy exchange & Scam exchange will steal your personal information and may sell your data and ID proof to some other agency and may even use that for a wrong cause.
Apart from that, registration and complete verification has the following disadvantages:-
(1) It takes a lot of time to get verified (from 2 days to as high as 15 days also, in some cases even more than 15 days also). Validation and Approval are time consuming processes.
(2) Scanning and taking a snap of the ID and collecting all those things and submitting to the exchange is really a hectic process.
So we can categorize the exchanges into the following:-
(1) Exchanges, which require only Name, Email.
(2) Exchanges which require Name,Email & Phone Number.
(3) Exchanges which require Name, Email, Phone Number as Tier-1 requirement for limited withdrawal and complete verification as Tier-2 requirement for unlimited withdrawal or higher withdrawal limits.
(4) Exchanges which require complete verification procedure like Proof of ID, Residence Proof and in some cases Selfie including ID also.
But in 2018, there also exist an Exchange which neither require any registration nor any Email nor any Name nor any phone number nor any Proof of ID nor any Proof of Address etc. This introduces the exchange called OnePageX.
If righteousness is my virtue to the core of my being, then Anonymity is a choice and verification is not an obligation.
When a crypto exchange offers crypto-fiat conversion, it can be understood that, the registration, verification, AML, KYC are the regulatory obligations. But when the crypto exchange offers only crypto-crypto conversion, what is the need of all these complex multi step procedure and with an aim to strike a simple user interface and to offer a wider marketplace for crypto conversion, OnePageX eliminates registration and it is designed in such a way that everything happens in a single page.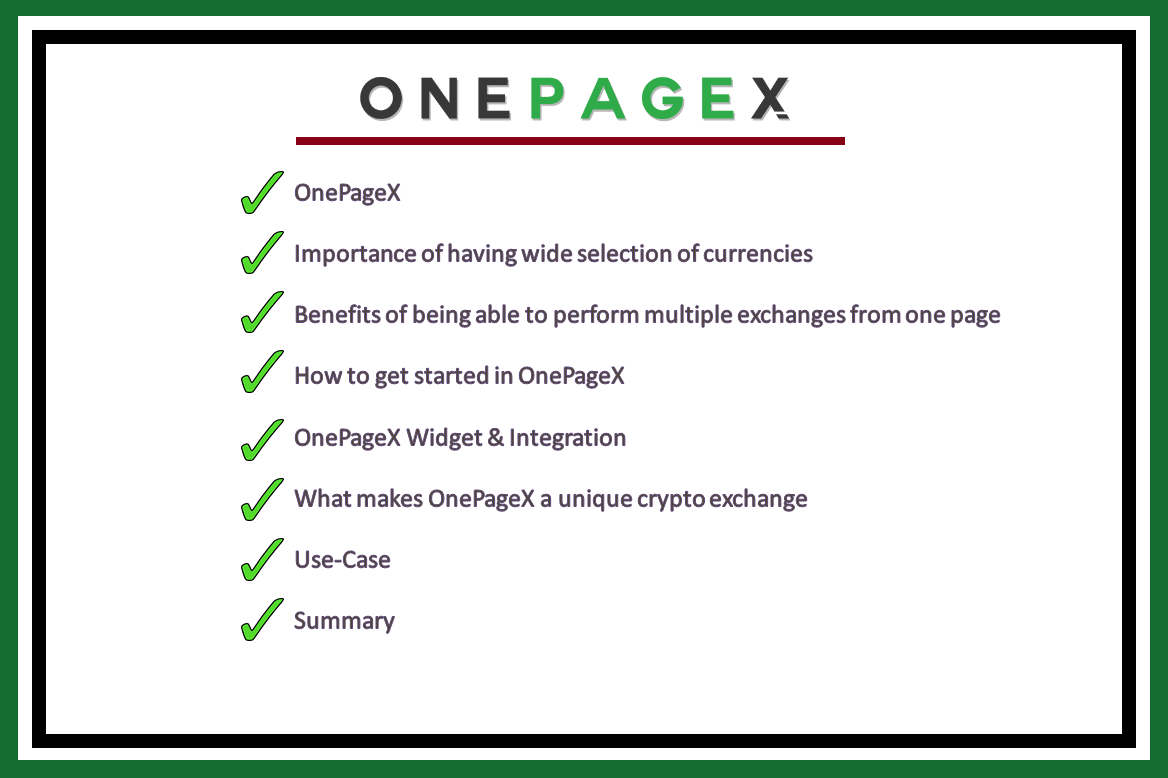 It is the simplest ever cryptocurrency exchange where the base currency is Bitcoin and one would be able to exchange bitcoin to as many as 140+ cryptocurrencies with the most competitive exchange rate as OnePageX searches through numerous exchanges and executes the trade automatically at the best available price.
It offers a simplified user interface where the user is not required to make any registration to get started nor the user is required to go for any kind of verification procedure. The user is also not subjected to any kind of restriction or limitations, that is why it is called as the simplest ever exchange.


Whenever a crypto exchange lists a good number of cryptocurrencies(both quality wise and quantity wise) and allow the users to make an exchange, then the marketplace of the exchange becomes broader and wider. This is because different users have different requirement, so enabling the marketplace with a wide selection of cryptocurrencies makes it a inclusive and pluralistic marketplace and also it makes the marketplace more dynamic and liquid as well.
Apart from the above, wide range of cryptocurrencies in a marketplace helps to increase user base. More users means more transactions and more transactions means more profit for the exchange, which will further result in growth of the exchange and more competitive exchange value for users as well.
OnePageX has as many as 140+ cryptocurrencies which offers a broad and wide marketplace for users and it must be noted that OnePageX is still in beta stage and in future it has plans to add more cryptocurrencies and to make the marketplace even more versatile so that all the categories of investors will be able to make exchanges through OnePageX. Future plans also include addition of STEEM.


Just like the crypto market has become vast, so as the portfolio of a crypto enthusiast and investor. So in traditional exchanges whenever a crypto trader tries to buy multiple cryptocurrencies, then he is required to open multiple pages for multiple cryptocurrencies and at times this really becomes hectic for traders when the different crypto assets stack up and it also becomes difficult to manage all at a time.
So there is a need of a simpler user interface where it can be possible to perform multiple transactions in a single page and all the transactions are visible and the status and updates can be traceable in real time.
It is worthwhile to note about OnePageX that, it allows multiple transactions from one page.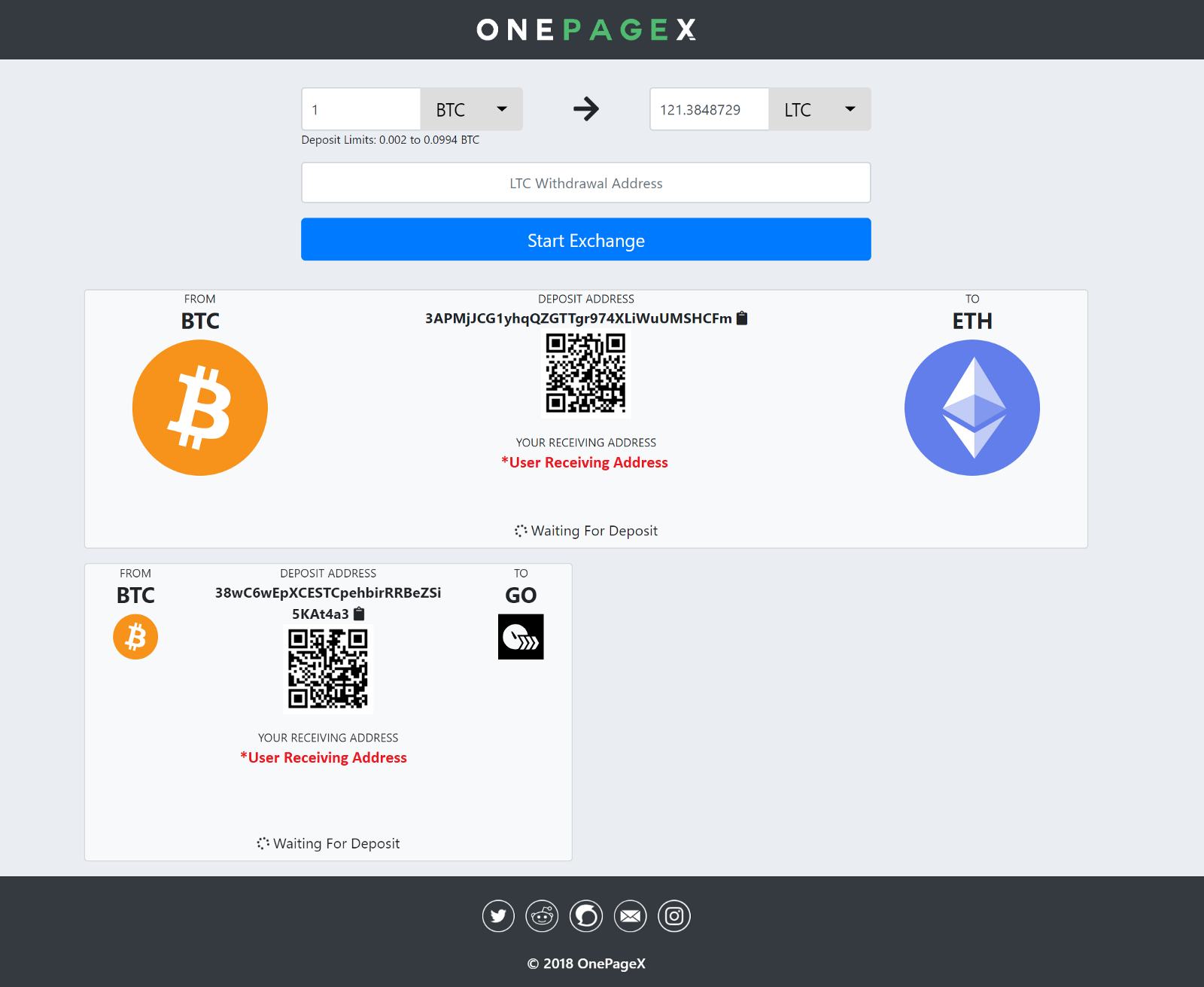 Image source


The user is not required to do any kind of registration. Once the transaction is initiated by the user, its URL will be added to the "session". It is required to either bookmark the page or copy & paste the link to come back to it. Further the addresses generated can be used indefinitely.
The simplicity of conversion form Bitcoin to any other altcoin in "OnePageX" can be best understood by the following illustration.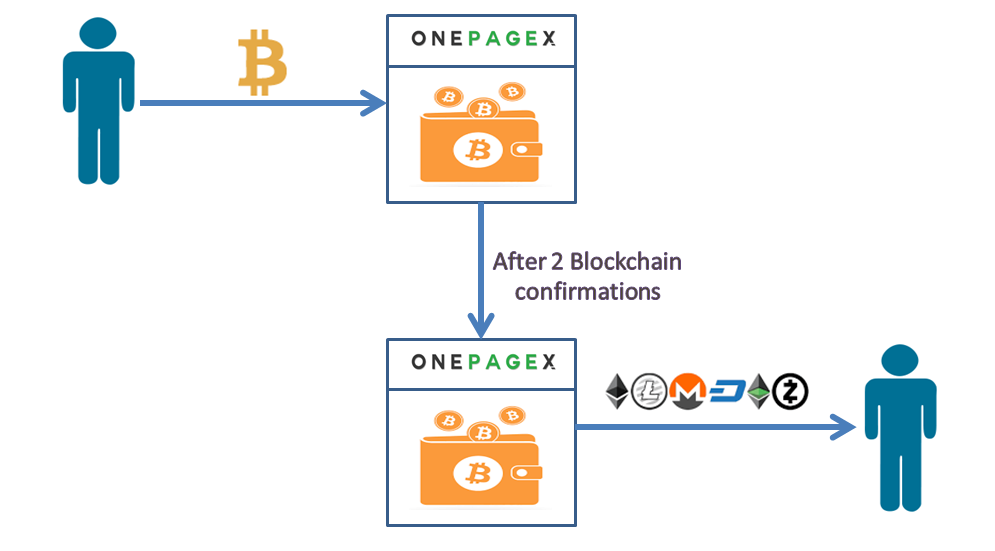 In the user interface of OnePageX, on the left side, the base currency Bitcoin is showing(At the moment, it allows exchange from Bitcoin to other cryptocurrencies,so the base currency at the moment is Bitcoin only, however it has future plans to add more base currencies) and on the right side, other cryptocurrencies (140+ cryptocurrencies) are showing.
STEPS
(1) The user has to first select the cryptocurrency to make a conversion.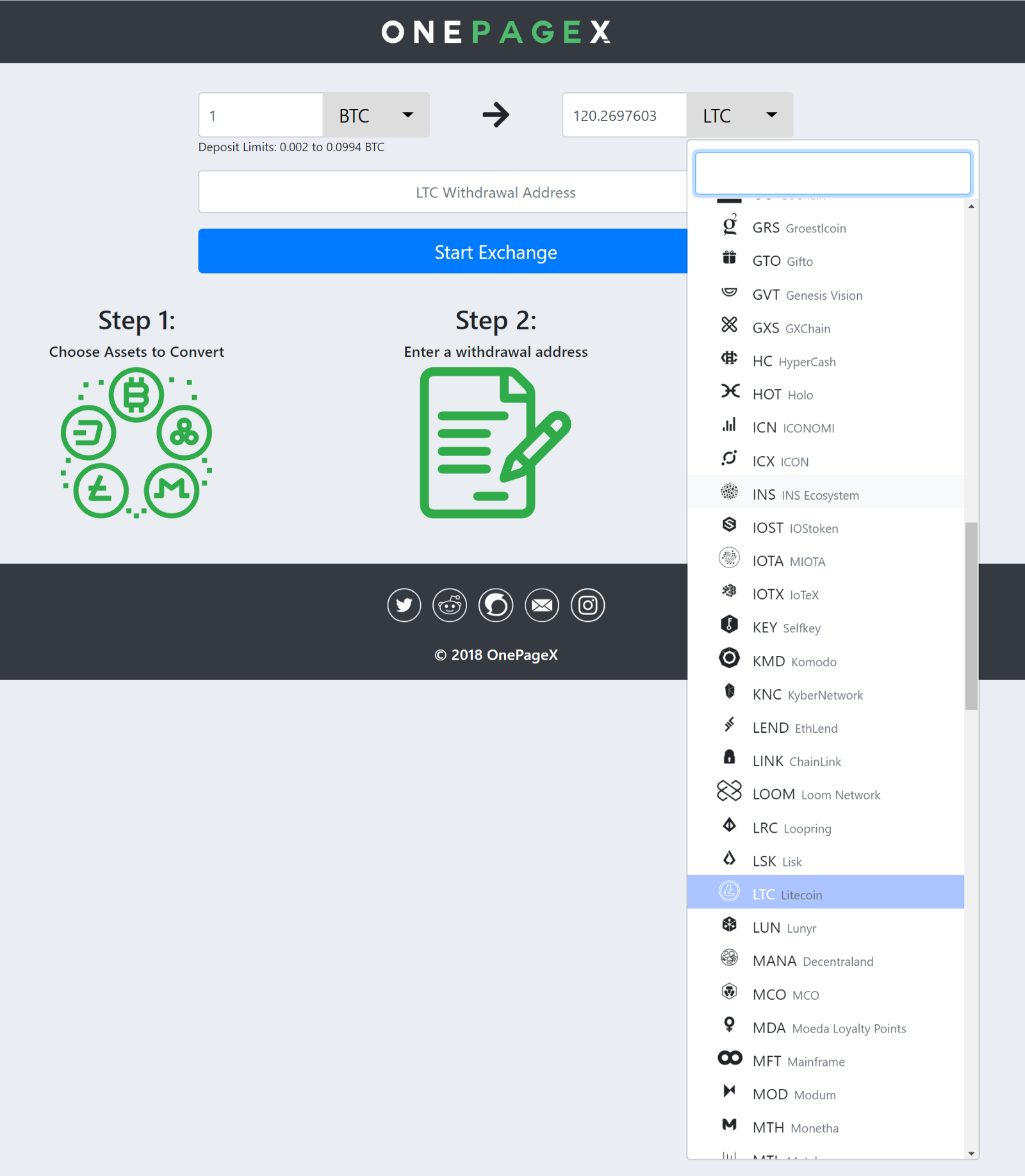 Image source
(2) Then the user is required to put the withdrawal address of the selected cryptocurrency.


Image source
(3) Then click on "Start Exchange".
(4) A card will appear with a deposit address and the user is required to send the deposit to that address.

Image source
(5) Once the user send the deposit,it will update in the transaction card and wait for 2 confirmations.

Image source
(6) Once it has 2 confirmations, the transaction card will update like "Exchange is complete ! Starting for withdrawal".

Image source
(7) Then the final status in the transaction card will be like "Withdrawal complete ! The transaction is done".

Image source
Note- After the required confirmation of deposited cryptocurrency, the exchange is almost instant. So it can be said that the overall waiting time of the transaction is equal to the time required for 2 confirmation of Bitcoin deposit.
The beauty of the interface is that, the transaction card during the process of exchange will update the status at every step, so a user will not have any kind of confusion after sending a deposit. Very often in other exchanges, it happens like that, if the status or updates is not showing after sending a deposit, then it creates chaos in user's mind and the user stand to believe that either it is a failed transaction or there is something wrong !


OnePageX has also a widget which can be implemented on any website and it is known as "OneBox". It is only required to copy and paste the snippet which is provided at the bottom of the page. It will enable the users of the website to do cryptocurrency exchange.


The key features of OnePageX which makes it a unique exchnage are:-
No registration & complete Anonymity
Ease of use
Clarity on fees
Multiple transaction from one page
140+ cryptocurrencies are available
OnePageX charges a small fee of 0.5% for the conversion and this is quite competitive rate in crypto market and the estimated conversion rate is also shown in their site.
Normally after 2 Blockchain confirmations, the transaction happens momentarily, however if the transaction does not happen for over an hour, then the user can send an email to OnePageX along with transaction details and a support staff from OnePageX will look into the matter.
On an average, most of the transactions happen within 25 mins, but please do bear in mind that Blockchain confirmations depend upon miner fees, so you may adjust the miner fee and pay a higher mining fee, should you require a faster processing of transaction.

Use-Case#1
"Chris" is a regular crypto trader and he loves to buy cryptocurrecnies from time to time and he owns BTC as well as other crypto assets. He always looks for new opportunities and exchanges also. He buys cryptocurrency so frequently that he does not like to register, login every time to a website to make an exchange and most importantly he does not like to reveal his identity to an exchange, so he want to remain anonymous and he loves quick mode of exchange. he has experienced so many exchanges in past but he is still looking for an exchange which perfectly suits to his requirement.
One day in a social circle his friend "Alex" told him about a new cryptocurrency exchange called "OnePageX" and told him about the features of it, and Chirs was made to understand that it does not require any registration and it is also quite fast and very simple user interface. Chris is now curious to know more details about "OnePageX".
He opened the browser and decided to do a small transaction to have an overall experience of OnePageX. After performing an exchange of 0.009 BTC to LTC, he was extremely happy and his findings about "OnePageX" are:-
(1) It does not require any registration.
(2) It is really quick.
(3) There is a wide range of cryptocurrencies as much as 140+ cryptocurrencies available.
(4) Exchange fee is really low and quite competitive.
(5) Multiple transaction also possible from one page.
(6) The simplest ever user interface.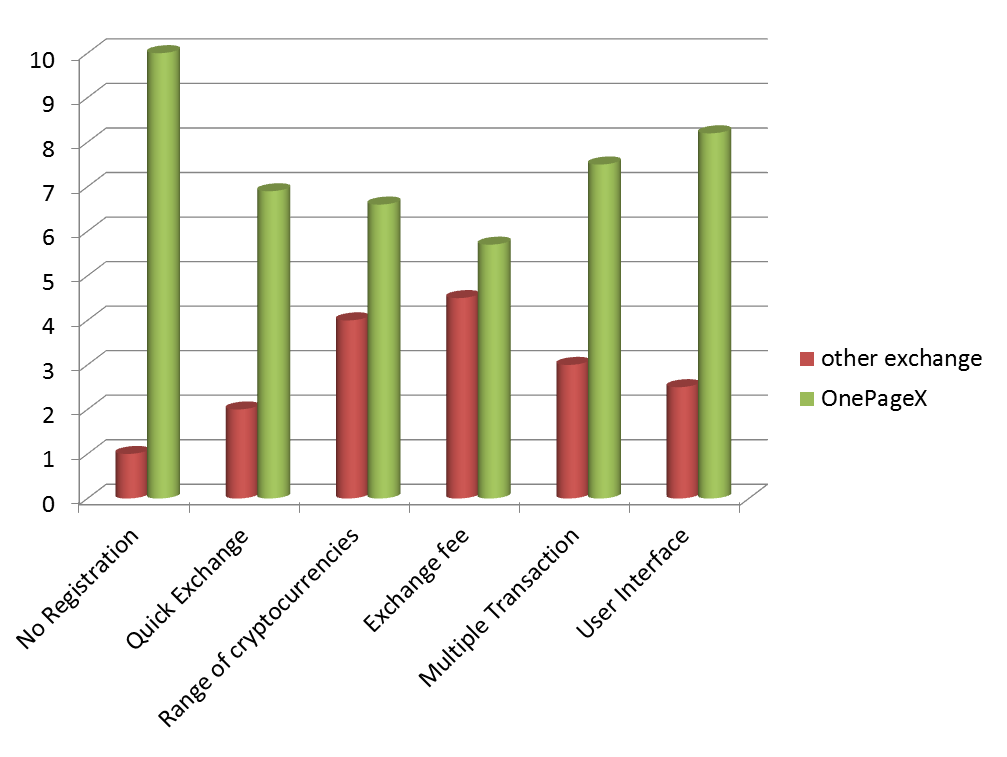 Use-Case#2
"Ednit" runs a website called "Coinodo" where it publishes the latest updates on crypto market and also publishes various articles about coins & Blockchain projects, which has great potential and economically viable to crypto market. The daily visitors to his website are increasing day by day and people are really interested to read the articles published in his website.
"Ednit" is thinking to synchronize with an exchange site which can not only optimize his website but also the user-base can grow and the existing user will also find it more convenient when they see a synchronized exchange option in his website, so that the interested users can also have the facility of exchange. But Ednit is really concerned about the complex nature of website synchronization, because people will have to do the same multi-step registration and verification process before being able to execute an order. In addition to that the exchange process for a user might require to navigate off of his page to be able to do a transaction. These are the reasons for which "Ednit" is not being able to take a call when it comes to offer his user base a synchronized exchange option.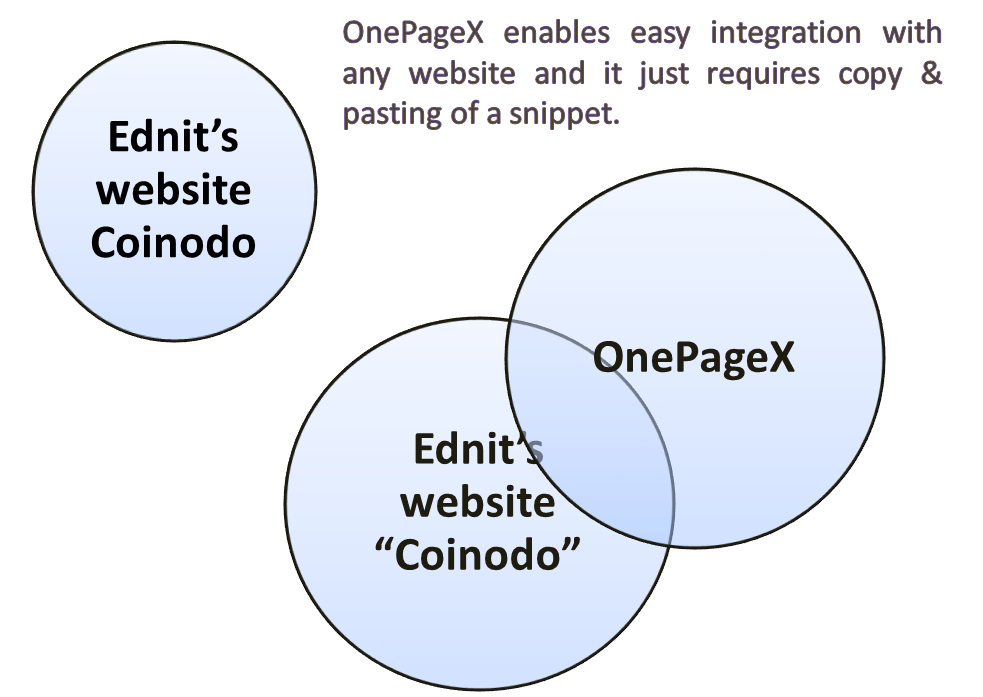 One day while browsing over Internet, "Ednit" suddenly found an exchange site called "OnepageX" where it does not require any registration, everything is simple and quick just like one-click execution and after digging more about this site, it came as a pleasant surprise to "Ednit" that, a ready made "snippet" is available in "OnePageX" which he can directly copy & paste to his website. Now the users and readers of his website will have an option to exchange to over 140+ cryptocurrencies directly from his website without navigating off of his website and most importantly the users do not have to go though multi-step complex registration procedure.
Use-Case#3
"Johny" converted 0.006 BTC to LTC in three different exchanges namely: OnePageX, Changer & Changelly. Give a detailed comparative analysis of the conversion of 0.006 BTC to LTC in the context of effective LTC amount, Registration requirement, required no of confirmations, provision of multiple transactions in a single page etc and make a comment.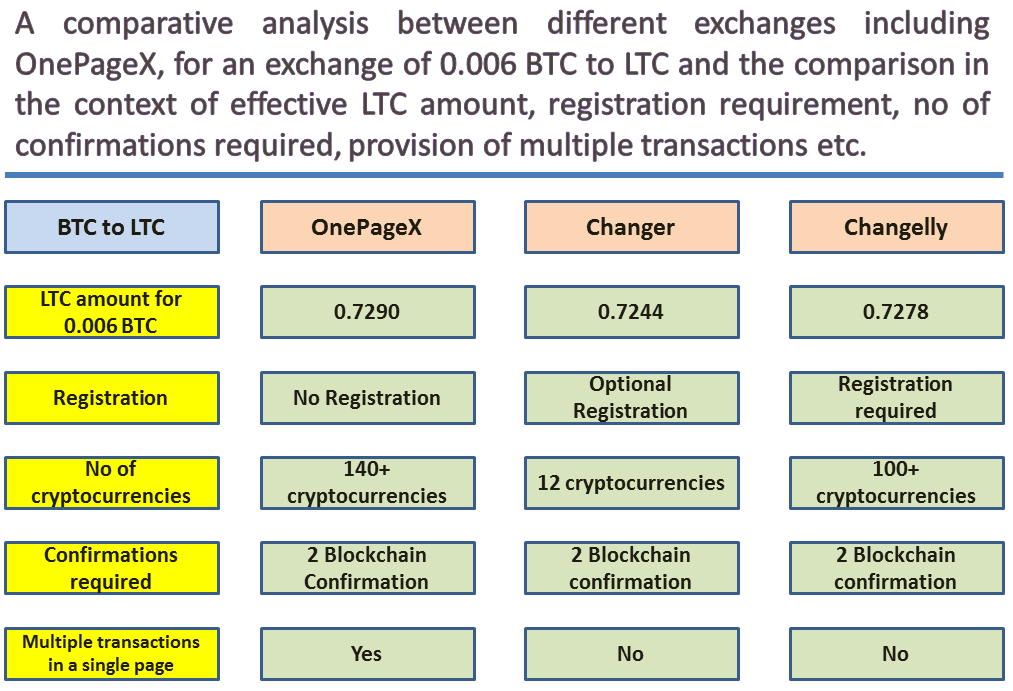 From the above, it is clearly understood that Johny's conversion of 0.006 BTC to LTC not only proved economical in OnePageX in terms of effective LTC amount he received but also Johny experienced a seamless and frictionless conversion process as it did not require any registration for him in OnePageX and the transaction card of OnePageX gives a clarity on the status of the transaction. Apart from that Johny could see the wide range cryptocurrencies(140+) in OnePageX along with the provision of multiple transactions in a single page.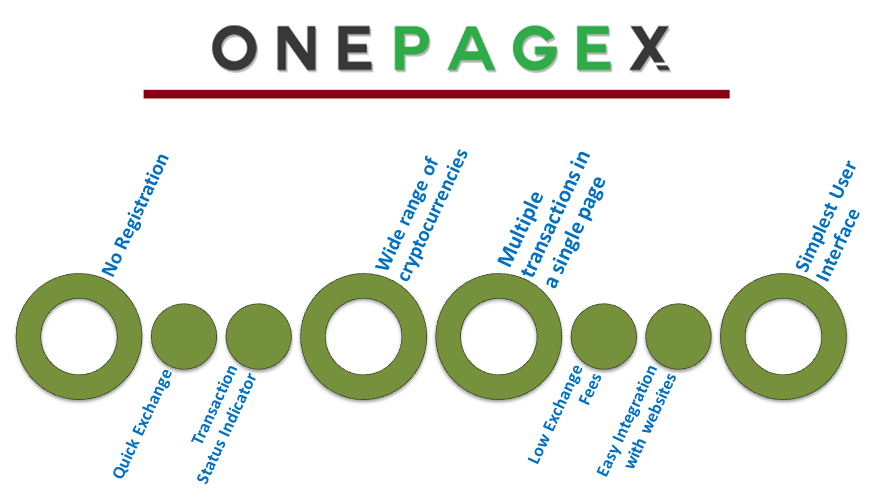 OnePageX is the kind of exchange that perfectly suits to the requirement of new generation crypto enthusiast and traders and the fast changing world really needs something like this which can make the things simpler for the crypto traders, so that the Ecosystem can expand at a better pace and new players will also be willing to jump into crypto segment when they see the marketplace as convenient and hassle free and in that context OnePageX will pioneer and set an example for other crypto exchanges. Not to forget, OnePageX is still in beta phase and it is constantly evaluating to add other good crypto assets so as to make the marketplace even more lucrative and versatile.
---
More Information & Resources:

---
---
onepagex2018
---